Unisom Sleeping Tablets: Will They Help Me Sleep?
All you want to do is crawl into your cushy bed and drift off to sleep, but your mind is racing a 100mph from the challenging and stressful day you've just had. You try everything to get some shut-eye, but sleep eludes you. So, you spend the majority of your night tossing and turning, staring at the clock every 15-minutes, and watching late-night sitcoms.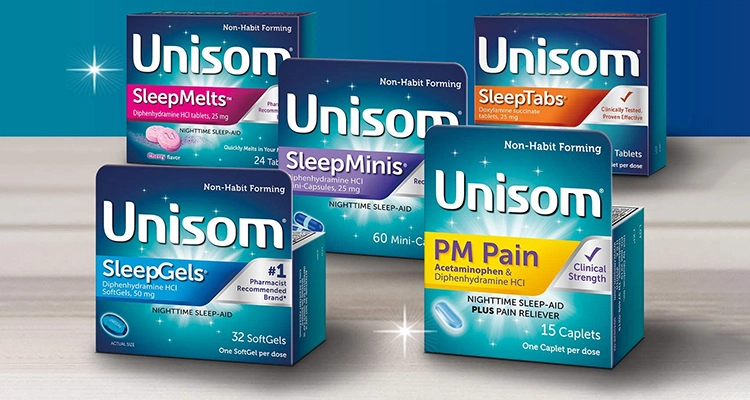 If this scenario sounds eerily familiar, the only way you're going to get sound sleep is if you do something about your "sleeplessness," such as trying self-help tips, making lifestyle changes, investing in an online sleep program, getting a prescription for sleeping pills, purchasing OTC sleep meds, and/or popping a melatonin supplement right before bed. 
Fortunately, if you are experiencing "sleeplessness" night after night, you're not alone and help is available. Approximately, 74% of American adults have a hard time falling asleep and staying asleep until morning – at least occasionally. And, although both women and men can experience insomnia, women tend to experience it more often than men. Perhaps, hormonal shifts prevent women from getting sound sleep. Or maybe, juggling several roles (i.e., mother, wife, daughter, friend, etc.) keeps women up all night. 
Even older adults can experience insomnia or "reduced sleep" from time to time. These individuals may awaken several times to urinate or awaken before sunrise due to changing circadian rhythms. The truth is it doesn't matter if you are male or female or young or old, getting a good night's sleep is a necessity for one's health and well-being. So, what should you do if you are having a difficult time snagging some quality zzz? Well, you could try Unisom. For nearly 60 years, millions of insomniacs and "problem sleepers" have turned to Unisom to finally get some much-needed sleep.
What Is Chronic Insomnia?
If you have been unable to fall peacefully asleep and stay asleep until morning, or if you have been suffering from poor sleep quality (i.e., tossing and turning, waking up too early, constantly experiencing nightmares or night terrors, etc.) for at least 4 weeks, you're most likely suffering from chronic insomnia. Chronic insomnia can also involve reoccurring bouts of "sleeplessness." Understand, however, that when your circadian rhythm is disrupted for any reason, it is harder for your mind and body to relax, so you can get a good night's sleep. When this continues to occur night after night, then you're suffering from chronic insomnia.
Unisom, an over-the-counter (OTC) sleep medication, is mass-produced by Sanofi, a pharmaceutical company. Unisom is offered in soft gel, tablet, mini-capsule, and caplet forms for mild-to-moderate insomnia or "sleeplessness." All Unisom products contain antihistamines. Antihistamines are designed to reduce the amount of histamine in your body. Histamines are chemicals that can cause itchy, watery red eyes, hives, skin rashes, cold symptoms, allergies, sneezing, runny nose, etc.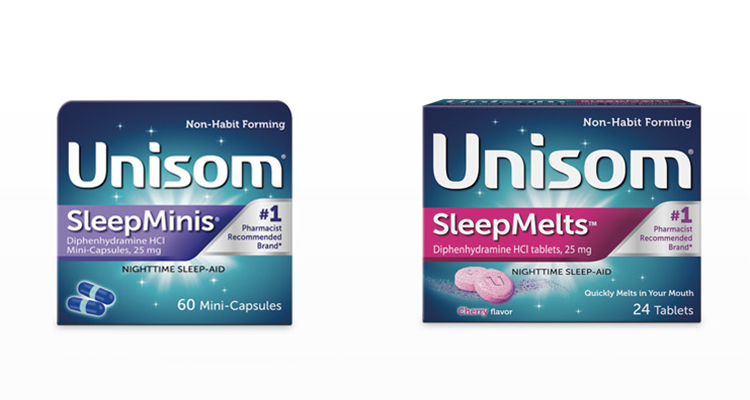 Most Unisom products, including Unisom SleepGels, contain diphenhydramine, the main ingredient in Benadryl – except Unisom SleepTabs, which contain doxylamine succinate (another type of antihistamine). Because Unisom also causes sleepiness and drowsiness, it is marketed as an OTC sleep aid. Unisom is available in 25mg tablets, capsules, soft gels, etc.
As mentioned above Unisom, regardless of the version, contains antihistamines. However, there are also inactive ingredients you will want to consider before taking this medication for sleep.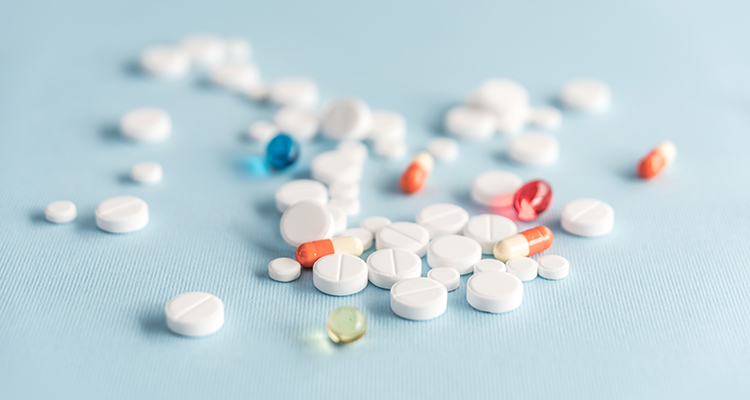 Unisom SleepTabs
The main (active) ingredient in Unisom SleepTabs is doxylamine succinate, a first-generation antihistamine. 
Unisom SleepTabs also contains inactive ingredients such as:
Dibasic Calcium Phosphate
Sodium Starch Glycolate
Magnesium Stearate
Refined Wood Pulp
FD&C Blue No. 1 Aluminum Lake 
Unisom SleepGels
The main (active) ingredient in Unisom SleepGels is diphenhydramine, also a first-generation antihistamine.
Unisom SleepGels also contain inactive ingredients, such as: 
Blue 1
Glycerin
Gelatin
Titanium Dioxide
Sorbitol
Propylene Glycol
Polyvinyl Acetate Phthalate
Polyethylene Glycol
Water
Yes, even the FDA (Food and Drug Administration) has approved Unisom for insomnia and "sleeplessness." The FDA also considers Unisom safe for pregnant women. More specifically, it is recommended for pregnant women, who are experiencing insomnia and/or morning sickness symptoms, such as queasiness, vomiting, nausea, and dizziness.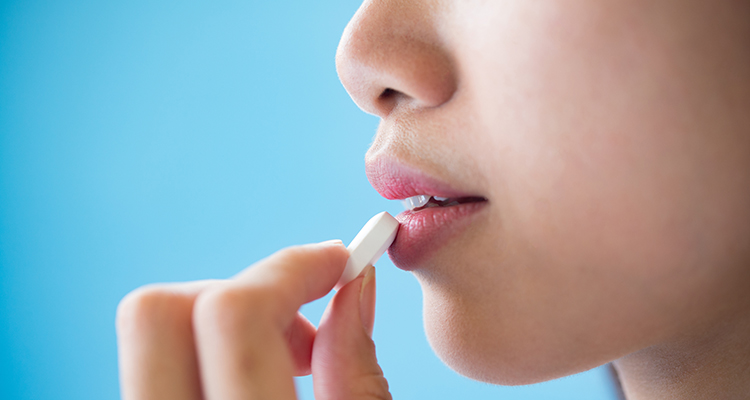 It depends on who you ask…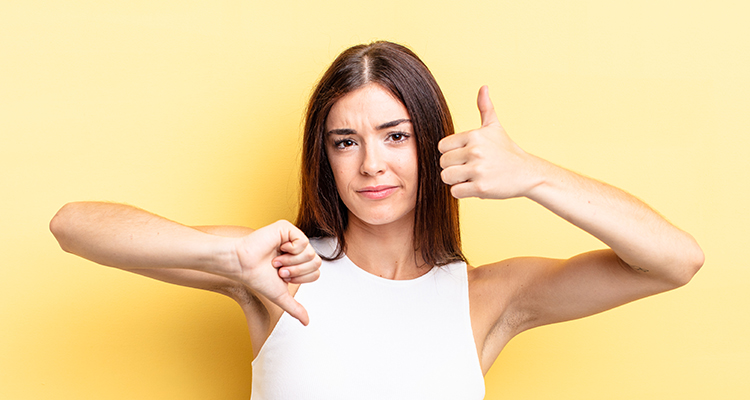 Clinical studies on diphenhydramine for insomnia are minimal. In fact, there have only been two studies on the topic, involving a combined total of 204 study participants. That's it. The studies looked at people with primary insomnia, which means their sleep issues were not the result of a health condition like depression, anxiety, and/or chronic pain.
First Study
According to a 2008 study, elderly insomniacs experienced slightly fewer nighttime awakenings after using a diphenhydramine-based sleep medication, like Unisom SleepGels or Benadryl.  However, there didn't appear to be a difference in how long it took these individuals to fall asleep, sleep well, or stay asleep until morning.
Second Study
A 2005 study found that people, who used diphenhydramine to improve sleep longevity (the amount of time they spend sleeping), did not experience a significant improvement in their sleep-onset time or their total sleep time.
According to WebMD consumer reviews, Unisom SleepTabs has a 3.9 effectiveness rating for "trouble sleeping."
Real-Life Consumer Reviews
Listed below are reviews from consumers, who have taken Unisom for sleep issues, and evaluated its effectiveness:
Review #1
"Took Unisom to help me sleep through the night. I slept through the whole night. But, boy did I pay for it the next AM. Extreme dizziness, light-headedness, and grogginess. If I had to go to work the next day, I would not have been able to do so. Took it several months ago again and had a similar reaction. Will NEVER take it again. Was recommended by my local pharmacy."
Review #2
"Horrible! Didn't even make me tired, and I was tired before I took it! Took one around midnight, and was still awake at 1am (lying in bed, eyes closed, dark room, trying my hardest to sleep, and was still wide awake). Took another at 1:15am, another hour and a half goes by, and still NOTHING! At this point I was extremely frustrated, considering I had to get up for work very early.
I know I shouldn't have taken another one, but I was desperate, so I took a third one at 3:30am. I don't know exactly what time I actually fell asleep because I refused to look at the clock again. But I think I finally became "worn out" from crying – not from the pills and fell asleep. The next day at work, I was miserable. I couldn't pay attention to anything and I had swollen, puffy, tired eyes. So embarrassing and miserable. Doesn't work."
Review #3
"I struggle with sleep so I tried this medication because my husband had success with it. I took one tablet to begin with but quickly learned that 1/2 tablet was better suited for me. As other reviewers have stated, I felt a little groggy the next day when taking a whole tablet, but felt fine with just 1/2 tablet. I have been given prescription medication for insomnia in the past, but this medication works fine…although, I try not to take it every night."
Review #4
"I used the generic Unisom and it was cheap and effective. It helped me go to sleep and sleep all night. I woke up feeling refreshed and ready for the day. I would say one thing, take it earlier than later. It takes effect within 10-15 minutes after ingestion. I LOVE IT!"*So, while Unisom has helped some people get quality sleep, it has been ineffective for others.
Is There Anything I Should Know Before Taking Unisom?
Yes, there are some things you should be mindful of before taking this medication for sleep.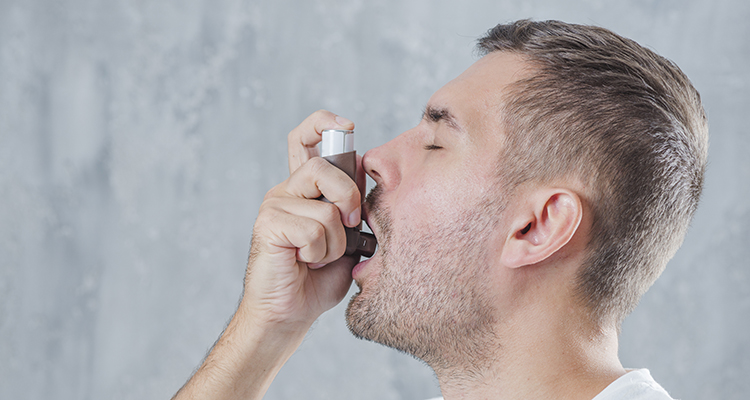 It is important to consult with your doctor if you have one or more of the following conditions: 
Glaucoma
Enlarged Prostate
Urination Difficulties
Asthma, Bronchitis, or Emphysema
Note: You may experience blurry vision and/or impaired thoughts and behaviors while taking Unisom for sleep. Therefore, refrain from driving, operating machinery, or performing tasks that require focus and concentration while taking this medication.
Is There Anything Else I Should Avoid While Taking This Medication?
Yes, there are some things you should avoid if you're taking Unisom, such as: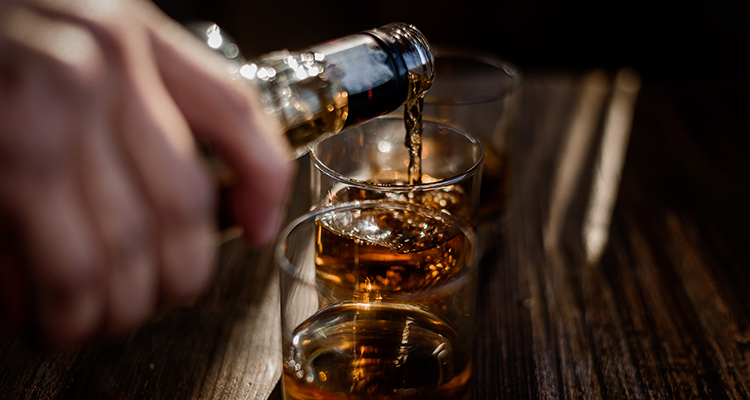 Avoid cold, cough, allergy, or other sleep medications because most of them contain antihistamines, which can cause an overdose when combined with Unisom.
Alcohol can increase doxylamine side-effects (i.e., mood changes, ringing in the ears, urination difficulties, easy bruising or bleeding, fast or irregular heartbeats, drowsiness, thick bronchial secretions, dizziness, etc. So, avoid alcohol while taking this medication. 
Unisom can decrease sweating, increasing your risk of a heat stroke. So, avoid becoming overheated or dehydrated while exercising or being outdoors.
Note: Keep in mind that older adults may be hypersensitive to the ingredients in this medication. However, Unisom does not appear to be harmful to an unborn baby. Still, if you are pregnant, do not take Unisom for insomnia without first speaking with your doctor. You may experience reduced breast milk production while taking Unisom.
Is Unisom Linked to Any Side-Effects?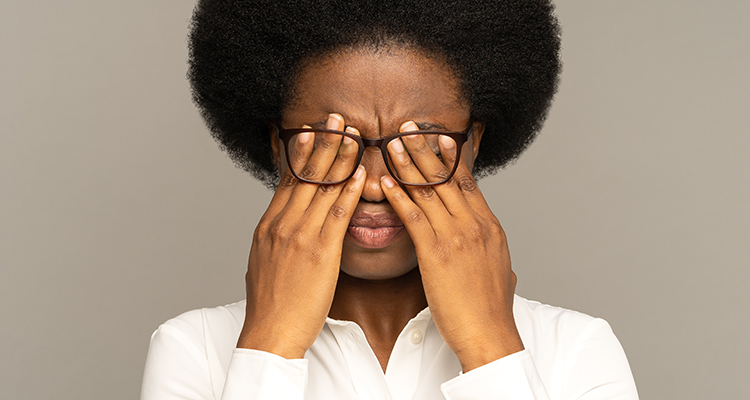 These side-effects may include the following:
Confusion
Hallucinations or Delusions
Dizziness, Sleepiness, or Drowsiness
Urination Difficulties
Blurry or Foggy Vision
Dry or Swollen Throat, Nose and/or Mouth
Constipation
Note:  Older adults have a higher risk of Unisom side-effects.
What Is the Most Effective Way to Take Unisom?
The most effective way to take Unisom is to follow the directions on the bottle or from your doctor.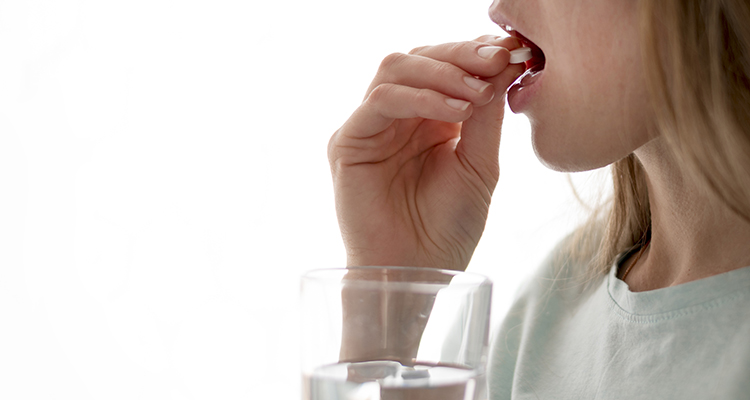 Do not take more or less than what is prescribed or recommended. Unisom is only intended to be taken temporarily – until you start sleeping better or until you can see your doctor or a sleep specialist. Unisom is not intended for insomniacs under the age of 12. So, consult your child's pediatrician if you plan to give this medication to a child under the age of 6. 
If you experience gastrointestinal distress (i.e., stomach upset, abdominal pain, nausea, vomiting, constipation, and/or diarrhea), take this medicine with food or milk.
If you are taking this medication for insomnia, you may want to go to bed earlier, so you can get proper sleep.  
If you are taking this medication for cold or allergy symptoms, call your doctor if your symptoms do not improve by the 7

th

day or if you are still unable to sleep after 2 weeks of using this medication. 

Unisom can cause abnormal allergy skin test results. So, tell your allergist or doctor that you are taking an OTC antihistamine. 
Note: As mentioned above, always consult with a pediatrician before giving your child Unisom for a cold or allergies. Antihistamine overdoses can lead to death in very young children.
Will Unisom Interact with My Current Medications?
Possibly…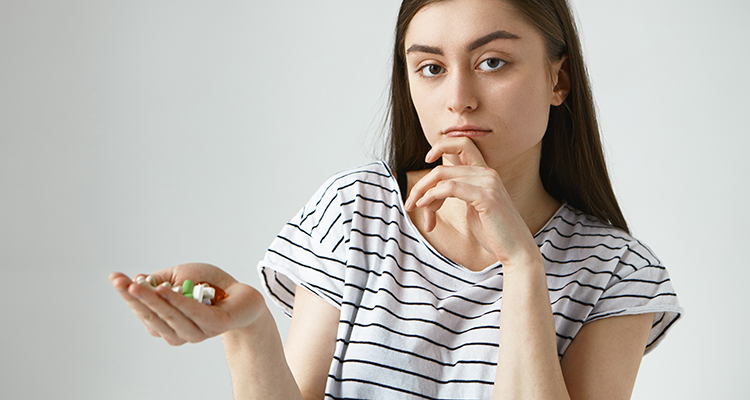 Make sure to tell your doctor AND pharmacist any other medications you are taking (i.e., prescription, OTC, vitamins, and herbal products) before using Unisom for insomnia. Keep in mind that some medications can lead to undesirable, harmful, dangerous, or even life-threatening complications when combined.
Remember, Unisom can cause extreme drowsiness, dizziness, and/or sleepiness. It can also slow your breathing and heart rate, especially when combined with painkillers (narcotics), prescription sleeping pills, muscle relaxers, anti-depressants, anti-anxiety meds, seizure drugs, and other products that contain antihistamines.
What Should I Do If I Miss a Dose?
If you miss a dose of Unisom, take it as soon as you remember. However, if it is almost time for your next dose, skip it and take your next scheduled dose as normal. Do not, under any circumstances, take an extra dose or two doses at one time to make up for a missed dose. If you miss a dose for insomnia, and it's too close to when you'd normally be getting up for the day, skip that dose and wait until bedtime to take the next dose.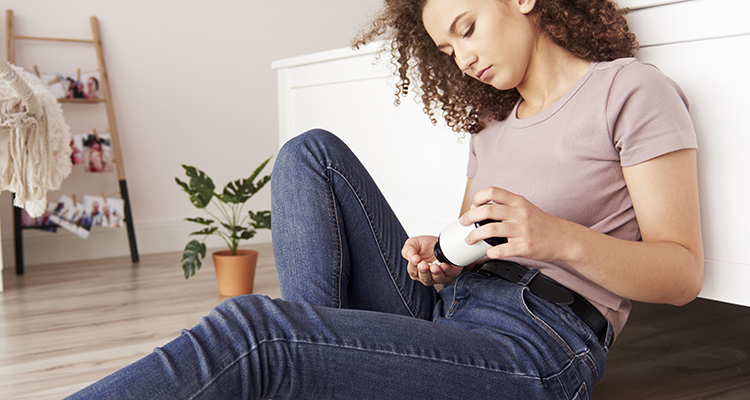 What Are Some Other Ways I Can Get Some Sleep?
Listed below are some other ways you can get some much-needed shut-eye: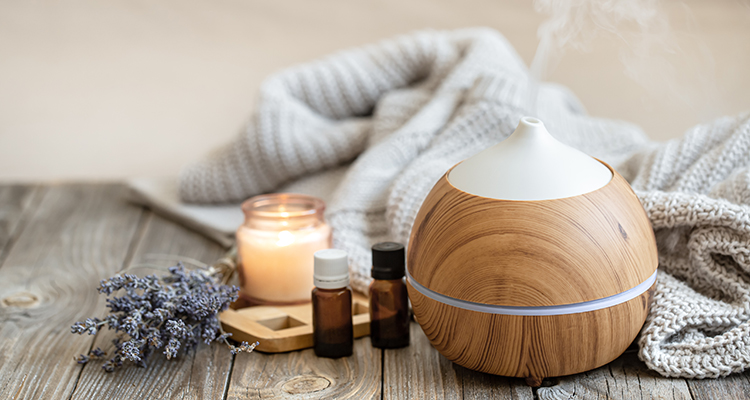 Develop a Consistent Bedtime RoutineAn effective way to get better sleep is to develop a consistent bedtime routine. For instance, eat dinner, watch a little television, chat on the phone with friends, scroll through your social media sites, and/or browse the internet, take a warm bubble bath or shower, shut down your devices, crawl into bed, and read a book or listen to some soft music.Then, put your book down and turn-off the music, turn on a white noise machine, and turn-off the light. Don't forget to go to sleep and wake up at the same time each day. A consistent bedtime routine will alert your brain and body that it's time to "wind down" for bed. This will help you fall asleep more quickly and stay asleep throughout the night.
Increase Your Fiber IntakeBelieve it or not, the foods you consume play a role in how well you sleep each night. In fact, researchers have found that people, who consume a healthy amount of fiber every day, experience better slow-wave sleep, than those who do not.
Tune-Out to White NoiseThe truth is barking dogs, honking horns, noisy snoring, crying babies, parties, and loud music or video games can wreak havoc on your sleep-wake cycles. In other words, noise (of any kind) can make falling and staying asleep challenging. In these situations, a white noise machine can be a "blessing." More specifically, white noise can block-out undesirable noises and "quiet" your mind, so you can experience deeper, uninterrupted sleep.
Sign-up for an Online Sleep ProgramIf you are having a hard time getting quality sleep, it may be time for you to sign-up for an online sleep program, like Somnus Therapy. Somnus Therapy uses guided cognitive behavioral therapy for insomnia (CBT-I) techniques to help you manage your insomnia. The overall result? Better, faster, and longer sleep. Somnus Therapy introduces you to insomnia, helps you understand why you're not sleeping, explores your bedroom environment to ensure you are sleeping in optimal conditions, challenges your negative thoughts, "quiets" your racing mind, and teaches you better sleeping habits, so you can finally get the sleep you deserve!
Slide-on a Light-Blocking Eye Mask Guess what? If you find it nearly impossible to fall and stay asleep at night, it may be too light in your bedroom. In fact, researchers have found that too much light (even blue light from television, smartphone, tablet, laptop, and computer screens) can negatively affect your sleep quality. So, if your partner likes to fall asleep to blue light from the television, but it keeps you up, then slide-on a light-blocking eye mask, so you can get some zzz before work the next day.
Try AromatherapyWho doesn't love tranquil aromatherapy scents? Lemon, rose, bergamot, lavender, jasmine, vanilla, and chamomile essential oils can reduce your stress, ease your tension, lower your blood pressure, and slow down your elevated heart rate, so you can relax and fall peacefully asleep. Purchase a diffuser for your oils and turn it on 30-60 minutes before bed for a dreamy night.
Say, "NO" to CaffeineIf you want to combat your insomnia, you'll need to say, "NO" to caffeine – at least before bed. Consuming caffeine products, including sodas, tea, and coffee before bed can keep you up all night. So, instead of consuming caffeine in the evening or at night, why not try a more soothing alternative like warm milk or hot herbal tea (i.e., chamomile tea).
Invest in a Comfortable Mattress & Bedding
How comfortable is your mattress? What about your bedding (sheets, pillows, comforter or bedspread, etc.)? Because that's important. If your mattress and bedding are uncomfortable (i.e., too hard, too soft, too hot, or too cold), there is no way you're going to get sound sleep. In fact, you'll probably spend most of the night tossing and turning. So, make sure you have a comfortable bed to slip into each night. Also, make sure you have your thermostat on 60-67 degrees for optimal snoozing.
Whenever I can't sleep at night, I can always find solace with the Instagram and Facebook community. Like me, they are up looking for something to help them fall asleep quickly, even though scrolling on social media sites is sure to keep anyone awake.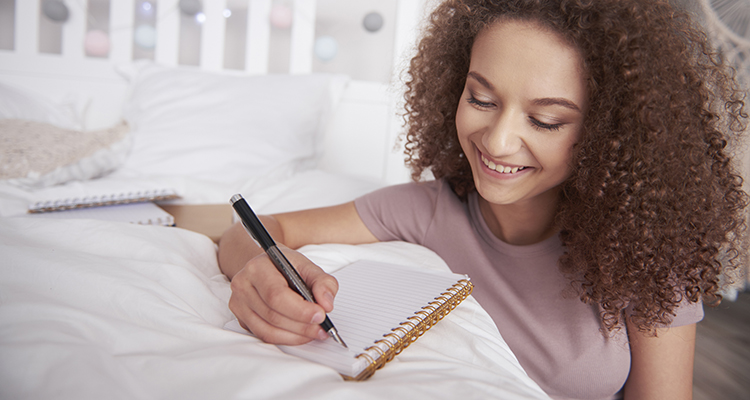 Some people turn to social media, take melatonin supplements, read, listen to soft music, meditate, sign-up for an online sleep program, like Somnus Therapy, or invest in a white noise machine to help them sleep, others turn to prescription sleeping pills or OTC sleep medications like Unisom, to get some zzz. Unisom is considered safe and for some, it's rather effective. However, it's always to try the "natural route" before taking sleeping pills. 
Approximately 33% of American adults admit to experiencing insomnia almost every night. And, 10-20% of these individuals admit to taking OTC sleeping medications, like Unisom, to fall asleep. Why do people immediately turn to sleeping pills to get some shut-eye? Probably because it's easier than trying other things. Even if there are healthier and more effective routes, such as Somnus Therapy, that can help them achieve great sleep.