Sleep Ez Mattress Reviews
When you buy a mattress, you invest in more than just your comfort. You also invest in your sleep quality, health, and overall well-being. The right mattress is equal parts comfortable and supportive. It should also be breathable to help prevent your body from overheating. This can cause night sweats, nightmares, and frequent awakenings throughout the night.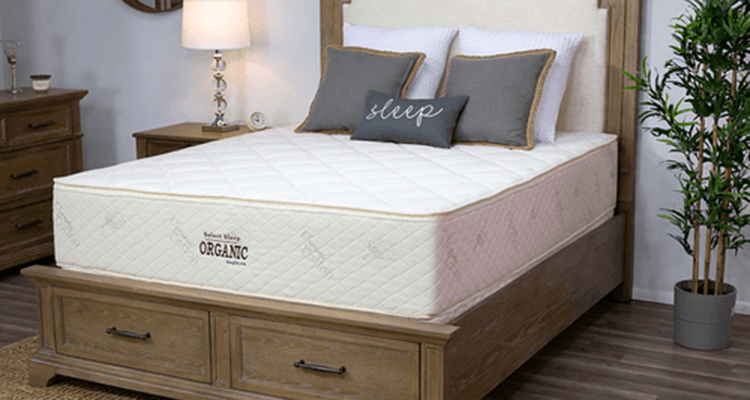 But with so many mattress brands on the market today and some that show up at your door in a small box before expanding to their final size, it can feel impossible to know which one is best. In this article, we'll take a closer look at one mattress brand to help you make an informed decision. Keep reading to discover the pros and cons of the Sleep EZ mattress, read customer reviews, and learn more about its price and features.
About the Sleep EZ Mattress
The Sleep EZ Mattress company is a family-owned, third-generation direct manufacturer located in Phoenix, Arizona, USA. The company prides itself on three basic principles – quality, service, and price. Sleep EZ has been producing mattresses for over 35 years. Because Sleep EZ is a family-run business with a reputation to uphold, the owners take extreme pride in delivering top-notch quality and value.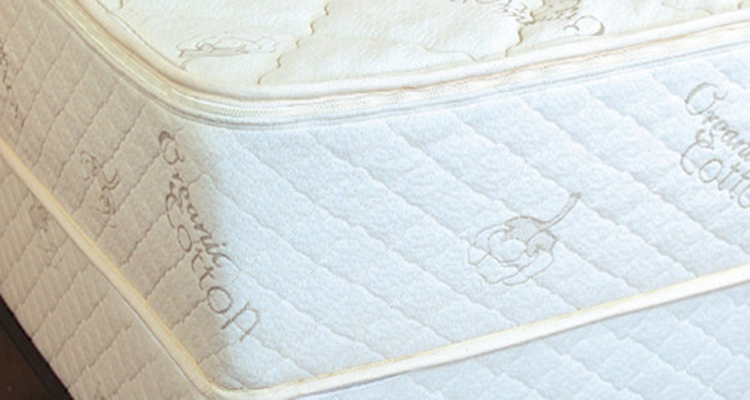 Sleep EZ was first started by John Wolfe in 1966 as a wholesale distribution company called Wolfe Manufacturing. The company sold mattresses to retail stores and hotels located in the Southwest part of the US. In 1974, Larry joined the mattress industry and brought with him a background in marketing and accounting. Larry placed a major emphasis on taking a hands-on approach, which he then passed on to the company's current CEO, his son Shawn.
Larry went on to open his own mattress manufacturing facility called Paradise Bedding where he continued to service loyal customers of Wolfe Manufacturing. The company changed its name to Sleep EZ in 1976 and started mass-producing its trademark line of mattresses. In 1982, the first Sleep EZ retail stores opened their doors in Phoenix. In 1992, Sleep EZ started making latex mattresses which are now the company's specialty and what they're known for most. In 1998, Sleep EZ joined the world wide web and started marketing and selling their well-known latex mattresses online.
Today, Sleep EZ is one of the foremost leaders in high-quality and affordable latex mattresses, both in-store and online. The company prides itself on creating "safe mattresses for the family". All Sleep EZ mattresses are made of 100% pure latex and a variety of other all-natural, organic materials.
The Sleep EZ brand offers a 90-night trial period, free shipping, and a 20-year warranty. If you're not completely satisfied, you can return your Sleep EZ mattress for a fee of $99.
Types of Sleep EZ Mattresses
From the company's inception over 50 decades ago, Sleep EZ is now producing several types of latex mattresses that each offer their own benefits and price point. Here are some of the most popular mattresses in the Sleep EZ line with details about their production, features, sizes, and price.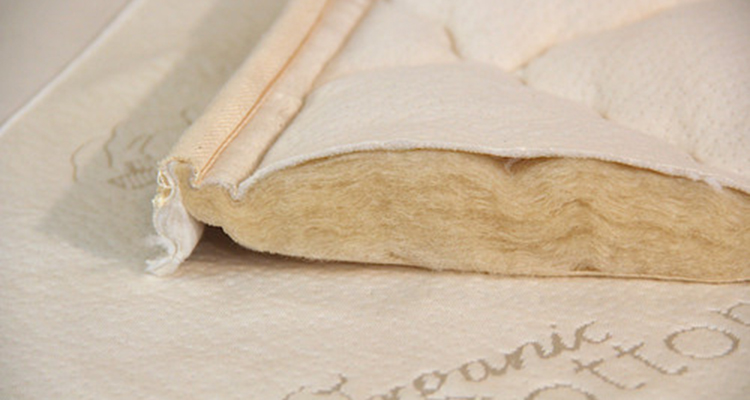 Organic Latex Mattress
The Sleep EZ Organic Latex Mattress is made using 100% organic latex and 100% organic cotton, plus eco-conscious wool. By reconfiguring the layers of the mattress, you can adjust its firmness at home. Keep in mind, though, that latex is a very heavy material so moving this mattress is a two-person job.
Most people credit the Organic Latex Mattress by Sleep EZ with being extremely responsive and bouncy, making it ideal for those who prefer a softer, more giving mattress. Latex mattresses have a very specific and noticeable feel, so if you've never slept on one, it may take some getting used to. The Organic Latex Mattress by Sleep EZ ranges in price from $899 to $1798 depending on the size.
Natural Latex Mattress
The Sleep EZ Natural Latex Mattress has many of the same great features as the organic mattress with a few differences. The biggest one is that this mattress isn't made using organic latex or cotton. Instead, it features all-natural latex and a cotton/wool blend for the exterior. Just like the organic mattress, you can reconfigure this mattress' firmness layers for optimal comfort. For partners that don't agree, the Sleep EZ Natural Latex Mattress offers dual-sided firmness to meet everyone's needs. Depending on the size you need, the Natural Latex Mattress by Sleep EZ will run you between $799 and $1698.
Roma Latex Mattress
If price is the biggest factor for you, consider the Roma Latex Mattress by Sleep EZ. This is the cheapest mattress in their line but may not offer all the same benefits as their more expensive varieties. Priced between $450 and $960, depending on the size, this mattress isn't made of 100% latex or without toxicity, which is the main reason most people invest in latex mattresses.
But the Roma Latex mattress does offer its own set of benefits. Synthetic foam in the mattress' outer layer offers added contour. The foam is CertiPUR-US certified which means it has very low VOC emissions. The Roma Latex mattress is also one of Sleep EZ's flippable models which you can switch from medium to firm. This mattress is more on the firmer side so if you want one that's soft or especially responsive, you may need to upgrade to a different option in the Sleep EZ line.
Hybrid Mattress
Another affordable, quality mattress in the Sleep EZ line is the Hybrid mattress which combines the feel of latex with the support of pocketed coils. The mattress is made using 3 inches of latex on top, 8 inches of pocketed coils, and 2 inches of latex at its base, making it flippable for a semi-customizable experience. Choose between a firm feel on one side or a softer texture on the plush side. You can purchase a Sleep EZ Hybrid mattress for between $595 and $1,095.
360 Hybrid Pillowtop Mattress
Last but not least is the Sleep EZ 360 Hybrid Pillowtop Mattress. This mattress option is best for those who want a hybrid mattress you can flip with the luxury feel of a pillowtop. The 360 Hybrid Pillowtop has all the same features and layers of the traditional Hybrid mattress with an additional 3-inch latex pillowtop for added comfort. The organic cotton cover of the pillowtop is also quilted. The price point for this Sleep EZ mattress is between $895 and $1,395.
Special Features to Consider
Although each mattress in the Sleep EZ line has its own benefits, here are a few distinct features and design elements that make Sleep EZ latex mattresses some of the top-selling latex mattresses currently on the market.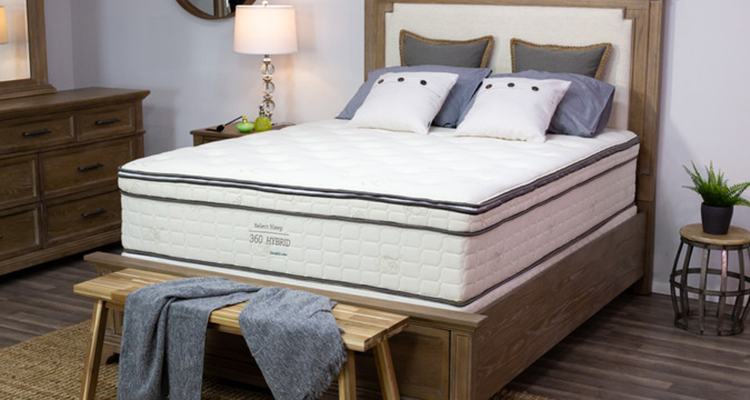 Temperature Control
Any of the latex mattresses by Sleep EZ offer a certain level of temperature control designed to keep you cool all night long. A lower-than-normal core temperature is essential for getting quality sleep. By reducing heat retention, these mattresses prevent night sweats and frequent awakenings.
Latex has been used for centuries due to its durability and cooling capabilities. Unlike some plush materials including poly foam or memory foam, latex doesn't retain heat. The perforated holes built into Sleep EZ mattresses also promote sufficient airflow and prevent body heat from being trapped and reabsorbed.
Motion Transfer
If you share your bed with someone else, it's important to know that most Sleep EZ mattresses have a relatively high level of motion transfer, which means if your partner is tossing and turning or getting up frequently, there's a pretty good chance your sleep will also be disturbed.
This shouldn't come as a surprise considering latex in itself is a very buoyant, bouncy, and responsive material. While these are benefits in some areas, they can be a detriment when discussing motion transfer.
Sinkage
Soft mattresses tend to sink over time. Depending on the weight and movement of the occupant, your mattress may sink as the night goes on, leaving you with insufficient support and discomfort. Through product testing, the Sleep EZ line of foam mattresses showed only a moderate level of sinkage. Studies indicated that the medium to medium-firm layer configuration on a Sleep EZ mattress sinks a little over 2 inches over the course of several hours.
As with most mattresses, the firmer the layers, the less sinkage you'll experience. The softer the mattress, the more give and therefore, the farther it will sink. Choosing between a mattress with a high or low level of sinkage comes down to your personal preference, body weight, and individual needs. Users claim the foam Sleep EZ mattresses provide an "all-over hug". If you don't like feeling snug or restrained during sleep, a foam mattress may not be the best choice.
Response Time
One of the best features of all the Sleep EZ mattresses is their response times. In fact, product testing indicates that these latex mattresses have some of the fastest response times in the industry. This is pretty impressive given the Sleep EZ mattresses didn't score very well on motion transfer.
Response time is slightly different and is used to describe how quickly the mattress returns to its original shape and firmness when weight is removed. Latex, in general, is known for its quick recovery speed and response time. Most products made of latex spring back to their original shape almost instantly. Sleep EZ mattress response times are above average. This means that even when motion transfer is high, once the weight (or your bedmate) is removed, the mattress will instantly return to its original configuration.
Bounce
It should come as no surprise that latex Sleep EZ mattresses have a high level of bounce. After all, latex is extremely responsive and springy. The average bounce rate of many mattresses is around 9.75 inches. The Sleep EZ mattress comes in at a significantly higher rate of 10.28-inches. It's interesting to note that the bounce level doesn't differ much between the hybrid, foam, and pillowtop mattress varieties.
While this high level of bounce isn't ideal for motion transfer, it does support ease of movement both while sleeping and during sex.
Edge Support
You've probably heard of edge support in regard to mattresses before but what exactly does it mean? Edge support is used to describe the level of reinforcement around the outside of the bed. It may also refer to the type of materials that help the mattress maintain its structure and integrity. The more reliable the edge of the mattress is, the more support it offers for sitting and sleeping.
Sleep EZ mattresses have excellent edge support for sitting and sufficient support when lying down. Most of these latex mattresses sink approximately 4 inches at the edge. While some people overlook the importance of edge support, if you plan to sit on your bed, use it to get ready, lounge, or simply relax, having a durable and supportive edge is important. It also plays a role in having comfortable and supportive sex, which we'll cover in greater detail in the next section. The closer you get to the edge of a Sleep EZ latex mattress, the more it will start to collapse, so be sure to sit or lie closer to the center.
Sex
Your bedroom should be reserved for sleep and sex only. While most people buy a mattress for the support and comfort it offers during sleep, it's also important to consider how well it'll withstand other extracurricular activities – including lovemaking. Most companies consider 5 different features when deciding how well a mattress performs during sex. These include bounce, noise, edge support, cooling, and pressure relief.
According to one study, Sleep EZ mattresses scored a 10 for bounce and noise during sex and a 9.5 for edge support. The mattress' cooling and pressure relief features also performed well.
Pressure Relief
Do you suffer from back pain, arthritis, or other aches and pains that make it difficult to achieve a comfortable sleeping position? If so, investing in a mattress that offers pressure relief is a must. Sleep EZ mattresses provide a classic latex feel that also offers substantial pressure relief in multiple positions.
As mentioned previously, many of the latex mattresses in the Sleep EZ line deliver a contouring hug that cradles your body. For some users, this restrained feeling may be overwhelming, but for those with joint pain, this snug feel plus the mattresses' impressive response time makes it easy for you to move around and settle in the ideal sleep position. Sleep EZ mattresses are also available in a variety of firmnesses, plus flippable designs and customization. Mattresses with the quilted cover offer immediate pressure relief, whereas any of the Sleep EZ mattresses with stacked layers provide transitional support that's felt over the course of several minutes.
If you're looking for a certain level of pressure relief, it's important to know your options. Sleep EZ mattresses can be customized to feel soft, medium, firm, or extra firm. This is done using the revolutionary four-layer latex design. Experiment with how firm or soft you want the mattress until you find the ideal level of pressure relief.
Off-Gassing
Every new mattress gives off a certain odor, regardless of the material. Unfortunately, latex has a stronger smell than most other materials. In terms of off-gassing, Sleep EZ mattresses are about average, with the initial smell being fairly strong and gradually dissipating over the course of 3 to 4 days. One good thing to note is that the smell of most Sleep EZ mattresses isn't as strong or off-putting as poly-foam or memory-foam blends, which are known to be quite pungent and last for almost a week. The odor emitted by a Sleep EZ mattress smells more like natural wool and less like rubber.
Split vs. Non-Split
Another unique feature of Sleep EZ mattresses is the ability to split the layers to create different levels of firmness. By splitting the top layers, you'll experience a different surface feel, whereas splitting lower layers offers a deeper level of overall support.
Mattress Height
Sleep EZ mattresses come in four heights based on the number of layers you choose.
7" height with 3 layers
9" height with 3 layers
10" height with 3 layers
13" height with 4 layers
Each of these layers can be customized from soft to medium, firm, or extra-firm. These unique layers are all encased in an organic cotton and wool quilted cover. The cover easily unzips, giving you access to the layers inside, and also makes for easy cleaning. You can place it in the washer machine or contact Sleep EZ for a replacement cover.
Sleep EZ Mattress Reviews
Are you still curious about what real users have to say about their experience with Sleep EZ mattresses? Here are some positive and negative reviews from real buyers to give you a better insight into the customer experience and what you can expect if you invest in one of these high-quality latex mattresses.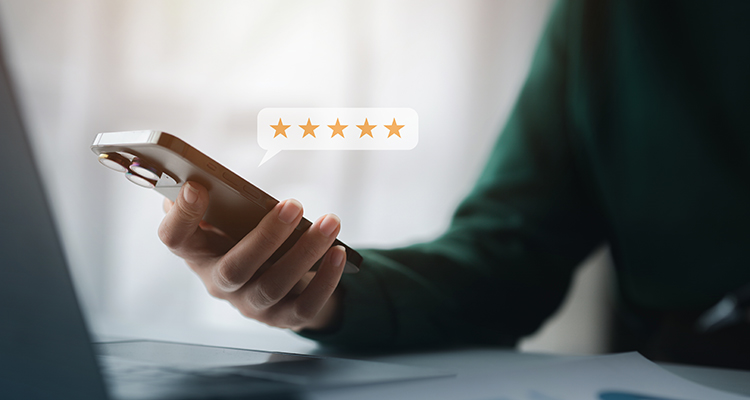 Positive
I've bought two of these mattresses. Excellent quality, super comfortable, and has absolutely no chemical smell.
Best mattress ever with the option to change firmness once you order it.
This mattress system is truly amazingly comfortable.
First-time user of latex mattresses. So far this has been a great experience.
I love my new mattress! No more back pain.
Haven't slept this well in years. Forgot what sleeping well felt like.
Excellent customer service.
I have artificial hips, shoulders, and one knee. This bed is so nice and soft and there are no pressure points.
Negative
Didn't receive an estimated shipping date and the item never showed up. Getting a refund was a hassle.
Each layer of the mattress is very heavy, very difficult to move, and rip very easily.
The mattress didn't last. Too expensive for the poor quality.
I woke up sweating even though it claims to keep you cool.
More expensive than other latex mattresses
Enjoy the Benefits of a Latex Sleep EZ Mattress
If you've never tried a latex mattress before, the Sleep EZ brand is a good place to start. A family-owned company that's been around for over 30 years, Sleep EZ has worked to perfect latex mattresses, offering several different varieties and types. With customizeable layers and different price points, you can find a Sleep EZ mattress to fit your needs and budget. Just be sure to do your research about latex mattresses before placing an order.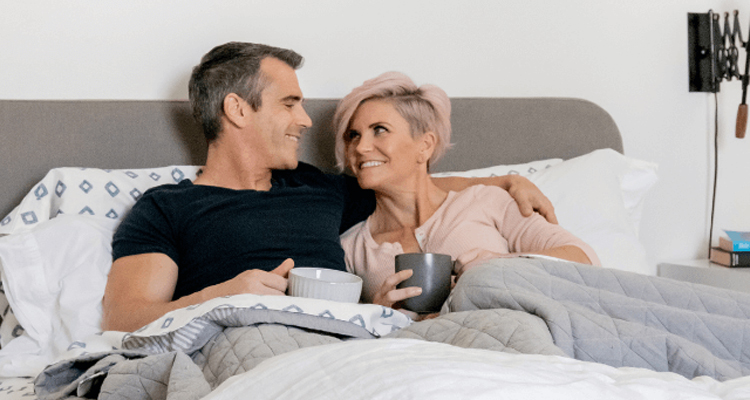 Upgrading your mattress isn't the only way to improve sleep quality. You can also upgrade your lifestyle choices and sleep habits. Cognitive behavioral therapy for insomnia (CBT-i) is a unique approach to identifying the underlying cause of your sleep troubles and helping you develop a healthier relationship with sleep. Click here to learn more about how it works and how Somnus Therapy's online sleep therapy program utilizes these proven methods to help users achieve the deep, blissful sleep they so desperately need and deserve.