Sleep Number i8 Reviews: What It Is and Is it Worth it?
From smartphones to smart homes, it was only a matter of time before mattress companies started creating smart beds. With today's advanced technology and an increasingly higher number of people suffering from insomnia, finding new ways to achieve quality sleep has never been easier or more important.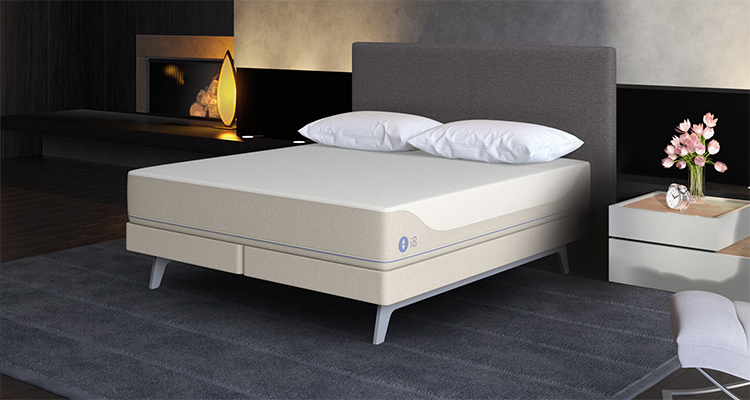 Sleep Number has been producing smart mattresses for over 30 years. Made with adjustable air mattresses, these beds use DualAir technology and an Adjustability feature that lets individual sleepers decide how firm or soft their side of the bed is. This is ideal for couples and other bedmates that can't decide on what type of mattress is best or most comfortable. Now, no one has to sacrifice their comfort. Each person can choose the right number for their unique needs and preferences.
Since its launch 32 years ago, Sleep Number has produced a variety of mattresses and beds, each one designed to be better and more advanced than the one before it. In this article, we'll take an in-depth look at one of Sleep Number's newest creations – the Sleep Number i8. From product options and specifications to customer reviews and pricing, we'll explore everything you need to know about the Sleep Number i8 so you can decide if it's the right mattress for you.
So, grab your pillow, and let's get started.
What is a Sleep Number Bed and How Does it Work?
Because the core features of most Sleep Number beds are the same, let's start there. Each smart bed has air technology that lets you adjust the firmness or softness of the mattress. The firmness or softness of the mattress ranges from 0 to 100. Whatever you're most comfortable setting is referred to as (not surprisingly), your "sleep number". For perspective, set the mattress to 0 and you'd have no support at all, whereas a setting of 100 would feel like concrete. Most people settle on a sleep number ranging from 30 to 60.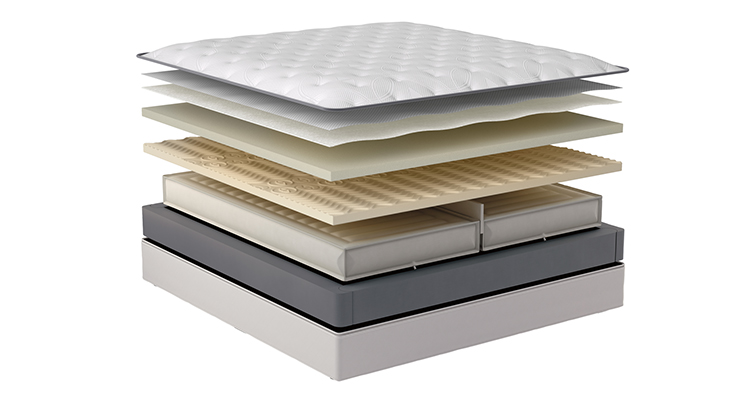 Most Sleep Number air mattresses offer dual zones so that you and your sleep partner can choose their own desired firmness. For example, your side of the bed might be set to 58 while your bedmate prefers a softer mattress set at 35. Not all Sleep Number mattresses have dual chambers though, so you can also maintain a consistent firmness throughout if that's your preference.
Finding your Sleep Number is about trial and error. Start by lying on the bed in your favorite sleep position, whether that's on your side, back, or stomach. Next, press any button to activate the remote. Now, you can use the up and down arrows to increase or decrease the mattress' pressure. This will simultaneously adjust your "sleep number" up or down. For mattresses with dual chambers, you can switch from the left to the right and back again so each partner can find their ideal setting. Once you find a comfortable setting that feels like the perfect combination of soft and supportive, congratulations! You've just discovered your sleep number.
It's this extra personalization that makes Sleep Number beds so popular. But, it also means there's quite a bit of assembly required before you can use your new air mattress. The main components of any Sleep Number bed include a remote control, a pump, and an air hose. If you have a dual chamber bed or a mattress that's full-sized or larger (which most people do), you'll have two separate air chambers and, therefore, two hoses. Just note that each mattress only comes with a single pump so you'll need to run the hoses from one side of the bed to the other to connect to the pump.
What is the 360 Sleep Number i8?
The Sleep Number i8 is part of Sleep Number's series of 360 Smart Beds and the Innovation Series. These smart mattresses come equipped with an app that lets you adjust the firmness from ultra-soft to extra-firm and everywhere in between. The SleepIQ app also comes with other features that help you track your health, sleep patterns, and overall quality of sleep.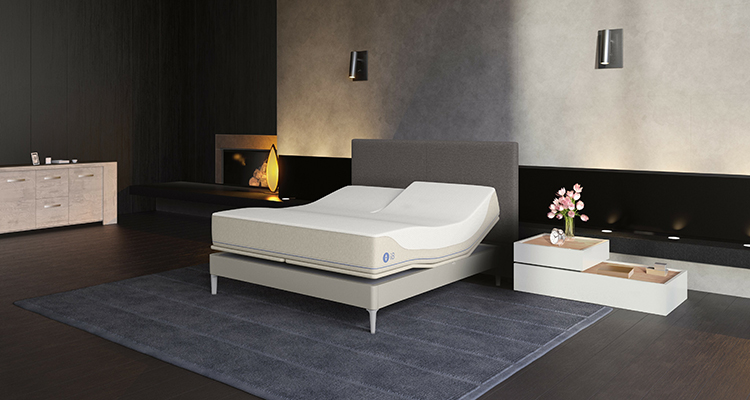 One of Sleep Number's newest creations is the 360 i8 Smart Bed which comes on the FlexFit 3 base, complete with leg elevation, foot warmers, and a motion sensor under the bed light. This mattress offers all of the same features that you'll find in most of the company's 360 Smart Beds including customizable adjustability on both sides, automated firmness adjustment settings, and sleep tracking. What sets the i8 Smart Bed apart is the new temperature-balancing surface designed to keep you cool at night and help regulate and balance your body temperature all night long. The base of the mattress also elevates to not only increase blood flow and improve circulation but also warm your feet, which some users reported helped them fall asleep faster.
But these luxuries don't come without a price. To start, a queen-sized i8 mattress costs $3,799 plus another $2,399 for the top-tier base. (You can purchase a slightly cheaper base as well minus the foot warmer and floor lights) However, if you're looking to make a long-term investment in your comfort, sleep quality, and overall health, this may be a small price to pay. Keep in mind, though, that you don't have to purchase the adjustable base or some of the add-on features like DualAir Adjustability, the Responsive Air technology, or sleep tracking. Each feature does enhance your sleep experience but isn't a requirement when purchasing a Sleep Number i8 mattress.
While you can opt for a single-chamber mattress if you and your bedmate both enjoy an extra-firm or extra-soft mattress, the price doesn't decrease from the double-chamber option. You can also disable the Responsive Air feature (which monitors the mattress' air pressure and automatically adjusts it as you sleep) and sleep tracking through the app.
The Main Benefits and Features of the Sleep Number i8 Mattress
Sleep Number mattresses are somewhat customizable and let you pick and choose which features you want. With that being said, the Sleep Number i8 offers its own set of unique and notable features worth mentioning. Here's a closer look at what makes this mattress different from others in the Sleep Number collection and sets it apart from other brands on the market.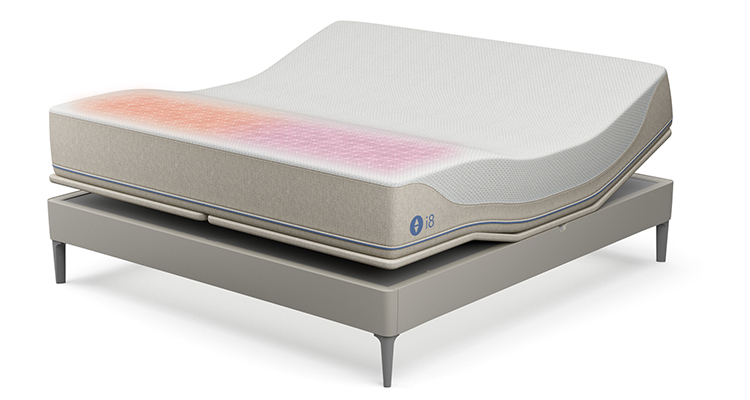 Responsive Air Technology
Most Sleep Number 360 Smart Beds (including the Sleep Number i8) utilize Responsive Air technology to monitor your movements throughout the night and adjust the mattress' firmness accordingly. By doing so, the mattress ensures you get the right level of support all night long. This cutting-edge technology uses body pressure sensors inside the air chambers that detect when you move, roll over, or change your sleep position. They then adjust accordingly. These sensors also detect vibrations associated with typical tossing and turning, but also snoring. At the end of the night, this data is synced to your Sleep Number app so you can review it and gain important insight into your sleep health.
Adjustable Head and Foot Elevation
With over 25% of people snoring almost every night, Sleep Number has created an adjustable base that lets you elevate both your head and feet to reduce snoring and improve sleep quality for both you and your bedmate. The FlexFit adjustable base offers "endless head positions". Not only can you choose your perfect head position but if you start to snore during the night, the Sleep Number i8 detects it and slowly raises your head up until you stop. The FlexFit 3 also lets you elevate your feet and warm them at the same time! These features are great for anyone suffering from sleep apnea or habitual snoring, which could be a sign of sleep apnea.
SleepIQ App
No smart bed would be complete without an app. Every 360 Sleep Number mattress is equipped with SleepIQ technology and the Sleep Number i8 is no different. The sensors and monitors built into the mattress track your sleep habits all night long. These important and telling details are available for you to view and evaluate in the Sleep Number app. The collected data includes your heart rate, breathing, and movements.
The app will also determine your sleep score. You can use this information to adjust your Sleep Number and other sleep habits including your sleeping position, nighttime routine, and any environmental factors that may be negatively affecting your sleep. This information would also be useful to bring to your sleep doctor or specialist if you suspect you have an undiagnosed sleep disorder. If you're really tech-savvy, you'll love the fact that you can connect your SleepIQ app with other health apps including Apple Health, Microsoft Health, Nest Learning Thermostat, FitBit, MapMyRun, and Withings Health Mate. This provides an even more comprehensive look at your overall health and well-being and how your sleep habits play a role.
Here's a quick look at how to connect these apps on your smartphone.
Log into your SleepIQ app
Select the "Settings" tab
Select your sleeper profile
Select "Connected apps"
Select the app or device you want to connect and log in
Allow SleepIQ technology to access the data on these apps
A Look Inside the Mattress
Now that you know the benefits this mattress offers, let's discuss how it's done by taking a closer look at all the layers of this impressive piece of technology.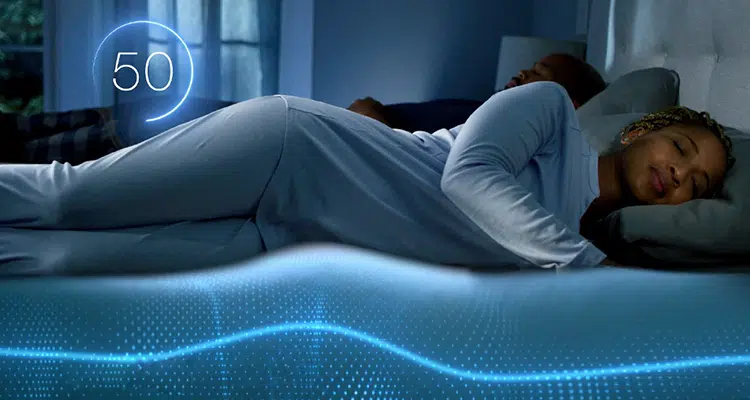 The Mattress
The mattress itself is made from a blend of fabrics, primarily polyester and polypropylene. These materials are known for being soft and breathable which helps keep your body cool and comfortable at night. The i8 mattress is 12" thick from the base to the highest loft.
The Cover
The duvet pillow top on the Sleep Number i8 cover is made of a Hypersoft Quality Foam and boasts Outlast temperature control technology. This is another feature designed to regulate your body temperature while sleeping.
The Comfort Layer
Below the 2" Hypersoft Quality Foam, you'll find a 3" layer of PlusFit comfort foam. This layer contains seven distinct zones designed to conform and contour to your body. Combined with the cover, the cushion layer of the Sleep Number i8 is approximately 6".
The Air Chambers
Depending on the size of the i8 mattress you buy, it will come with one or two air chambers. This air technology is what allows you to adjust the mattresses' firmness to your perfect sleep number. Each air chamber is made of 24-gauge vulcanized rubber. The exterior of the chamber is covered in a cotton fabric. Each hose for the air chamber is 4" thick and connected to both the mattress and an air pump.
The Base
The base of any Sleep Number bed is sold separately. While it's recommended you invest in a FlexFit base that allows you to adjust both the head and feet of your mattress, this isn't required. Above the base, you'll find the mattresses' air chambers and a 1" thick base pad.
Important Facts to Know About the Sleep Number i8
Buying a Sleep Number i8 mattress isn't a decision to be taken lightly. Not only are you investing in your sleep health but you're making a major investment by purchasing a mattress that costs over $3,000. So, before you do, check out these important facts.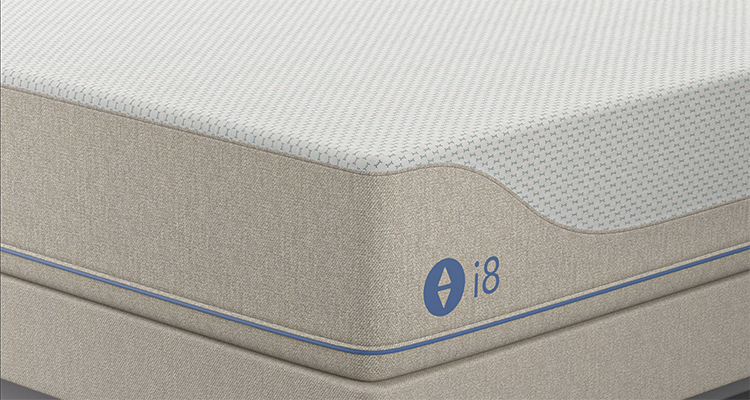 It Requires Quite a Bit of Assembly
If you're looking for a "set it and forget it" mattress, this isn't it! With hoses, pumps, and sleep apps to set up, the Sleep Number i8 requires quite a bit of assembly. This is one reason the company actually offers delivery and set up for $199.99. Some issues you may face include tech issues with connectivity to the app, air loss, and complications with hooking up the hoses to the pump. This is especially tricky if you have a dual chamber mattress with two hoses. If you opt for delivery only, you can expect to pay $89.99 but you should also expect some headaches and calls to the troubleshooting department throughout the assembly process.
Sleep Number Offers a Trial and Warranty
Sleep Number offers a 100-night sleep trial plus a 25 year warranty. However, if you read the fine print you'll notice that this trial only applies to the mattress itself, which means it doesn't cover any of the Sleep Number bases available (including the FlexFit). The 25 year warranty also has some limitations. Repairs and replacement parts are completely covered during the first 2 years. After that, coverage varies depending on the part and the issue. For example, regular wear and tear isn't covered and neither are some technical issues regarding the remote control or the Firmness Control system.
You Need WiFi for the Sleep App
If you want to take advantage of the SleepIQ app and all the valuable information it offers, you need a stable WiFi connection. You can also turn off this technology at any time if you need a break from all the bells and whistles. Without WiFi, you can control the bed using Bluetooth.
It's Great for Back Sleepers
Nearly 40% of people sleep on their backs. If this describes you, the Sleep Number i8 might be a great choice. Users report that the mattress provides the perfect balance of support and plushness for the spine. This is mostly due to the mattresses' seven zones of contouring support.
It Helps Keep You Cool at Night
Whether you suffer from night sweats or just naturally have a higher internal body temperature, the Sleep Number i8 mattress works to keep you cool at night. The mattress uses temperature-regulating technology to draw body heat away from you while sleeping and transfer it to the mattress' foam surface, which actually feels cool to the touch.
It Collects Plenty of Data
Calling all tech lovers! If it's data you want then, with the Sleep Number i8 mattress, it's data you'll get. When you connect your Sleep Number mattress to the SleepIQ app and any of the other health tracking apps mentioned above, you'll collect and receive more data than you know what to do with! From heart rate and breathing rate to sleep duration, quality, and latency, the Sleep Number i8 mattress provides an in-depth look at all your sleep stats and conveniently records it on the app for future use.
It Provides Pressure Relief
The 6" foam comfort layer provides cushion, support, and contouring to seven areas of your body, offering pressure relief for your feet, legs, knees, hips, lower back, shoulders, and head. Many people with back issues or recent surgeries and injuries claim the Sleep Number i8 mattress offers them the exact level of support and comfort they need to achieve quality sleep and ease discomfort.
It's Expensive Compared to Other Mattresses
When it comes to price, the Sleep Number i8 is definitely on the high end of the spectrum. The smallest sized mattress – a Twin XL – will cost you $3,249 without the base. The largest size – a California King – is priced at $4,399. A mid-range mattress is priced between $500 and $1,500. So, in comparison, the Sleep Number i8 is nearly twice this price and three times as much in some cases. However, you also get what you pay for and the Sleep Number i8 definitely offers more than a basic or traditional mattress, so keep this in mind when mattress shopping.
The Middle Can Sag with the Dual Chamber Design
Have you ever heard of "the trench effect"? This describes what happens when a mattress sags in the middle and one or both inhabitants end up falling into the middle. Most Sleep Number beds are built with two separate air chambers, allowing each partner to set their own firmness. However, if one person's sleep number is significantly higher or lower than the other and the bed is significantly unbalanced, there's a better chance that one partner will end up falling into "the trench".
Out of 66,655 reviews on Google, the Sleep Number i8 mattress received a 4.7 star out of 5-star rating, which is fairly impressive. Other reports show a 7.8 out of 10-star rating. Out of over 50,00 reviews on the company's website, 41,089 customers gave the mattress 5 stars.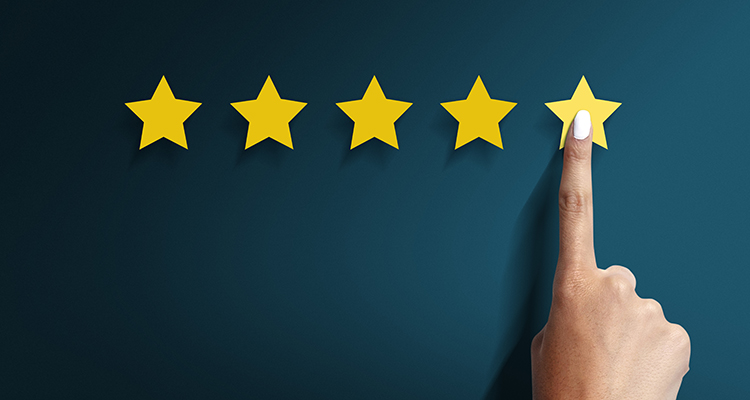 Let's see what real customers have to say about their experience with the Sleep Number i8.
Positive
Love this bed! It's so comfortable and what an upgrade from my old mattress.
I bought this mattress 2 years ago and have never slept better.
I have finally found a bed that helps me sleep better and I now wake up feeling rested without any pain!
So comfortable, easy to use, and countless restful nights.
Best bed ever! We get the best sleep every night.
I have had my bed for about 8-10 months and it's been a game changer as far as my quality of sleep. Just what the doctor ordered.
I have sleep apnea and with the sleep number bed I have been able to get more than 2 hours of sleep a night and now sleep 5 hours per night The snore position opens my breathing passageway for more air. I feel like a new person with more energy and a better disposition.
Negative
An overpriced air mattress.
The technology in this bed seems old. The remote is large and sluggish to operate.
A huge gap in the split-King design creates a canyon between the tops of the two beds.
Soft and saggy.
We have been trying to make this bed comfortable but it is just uneven.
I just can't get comfortable. It's either too hard or too soft.
None of the features are working on the bed. We've already had to replace the control box and foot warmers.
A quick online search will bring up countless other reviews, most of which are positive. It appears that Sleep Number is quick to respond and try to rectify customer complaints or negative customer experiences. The warranty and 100-night sleep trial may also help you get your issue rectified if it qualifies based on the company's guidelines.
Find a Mattress that Fits Your Sleep Needs and Your Budget
Most people with sleep troubles can agree that a quality night's sleep is priceless. And if you're interested in the Sleep Number i8 mattress, this is a good mentality to have, considering it's one of the more expensive mattresses currently on the market. With dual air chambers, adjustable head and footrest, temperature control, and smart technology that tracks your sleep, there's not much this mattress can't do! But, all these features may be overwhelming for some users, while others claim not all the features work properly 100% of the time.
As you continue your hunt for the perfect mattress to promote the perfect night's sleep, let us help. At Somnus Therapy, we strive to help insomnia sufferers get to the root of their sleep issues and adopt healthy sleep habits that improve their overall quality of life. If you're ready to make a change for the better, why wait? Click here now to get started.