10 Best Sleep Headphones 2022
Your environment plays an integral role in how well you sleep. This includes everything from your mattress and bed sheets to the lighting and tidiness of your bedroom. Another thing that can interfere with your ability to fall and stay asleep is outside noise. Whether it's a noisy neighbor or bedmate or street traffic, these unpleasant and intrusive noises can make it difficult to drift to sleep and may cause you to wake up several times throughout the night. Frequent awakenings interrupt your body's natural sleep cycle, which is necessary for your mental and physical health and stamina.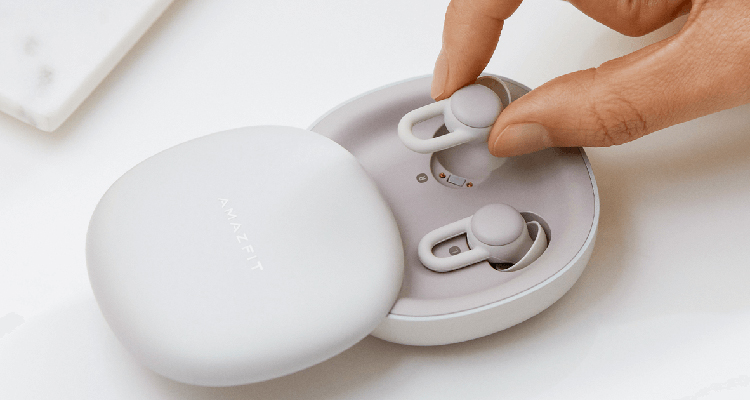 There are a few things you can do to try and block out exterior noise like using a sound machine or placing an oscillating fan in your bedroom. Both of these methods provide what's known as white noise and work to block out unwanted interruptions.
Another tactic is to invest in sleep headphones. More than just a pair of earbuds that allow you to listen to your favorite music and podcasts, sleep headphones are designed to help you achieve quality sleep and reduce distractions. In this article, you'll learn more about what sleep headphones are and how they work, plus our top picks for the best sleep headphones for 2022.
What Are Sleep Headphones and How Do They Work?
Sleep headphones are designed to block out sounds that may keep you awake at night. Unlike regular headphones or earbuds, these are designed with comfort and functionality in mind. Most traditional earbuds, headphones, or even AirPods aren't meant for sleeping. Cumbersome wires and oversized headphones make it impossible to get comfortable, while wireless earbuds are easily lost or broken in bed.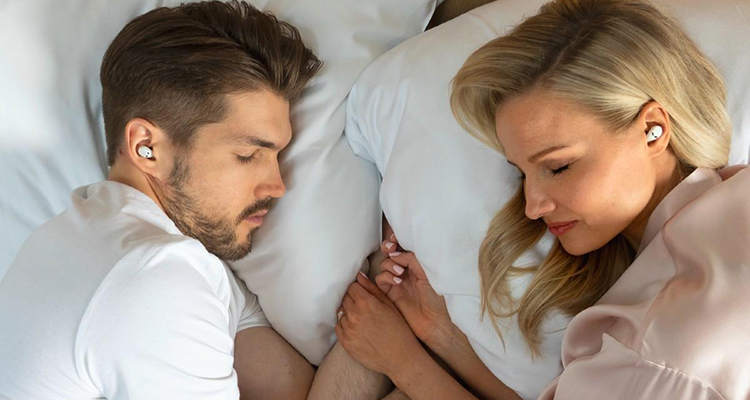 Sleep headphones usually come in one of three styles: earmuffs, headbands, and wireless earbuds. While each design has its own benefits, they share the same objective – to help you fall asleep faster and stay asleep by blocking out external noises, playing soft music, or flooding your ears with white noise and other pleasant sleep sounds. Certain styles work best depending on your sleep position. For example, earmuffs are better for back-sleepers, while headbands work well for side-sleepers or those who don't like the feel of earbuds.
Let's take a look at some of the best options for sleep headphones this year so you can find the best fit for you – literally!
The Best Sleep Headphones of 2022
Here are some of the top-rated sleep headphones categorized by style.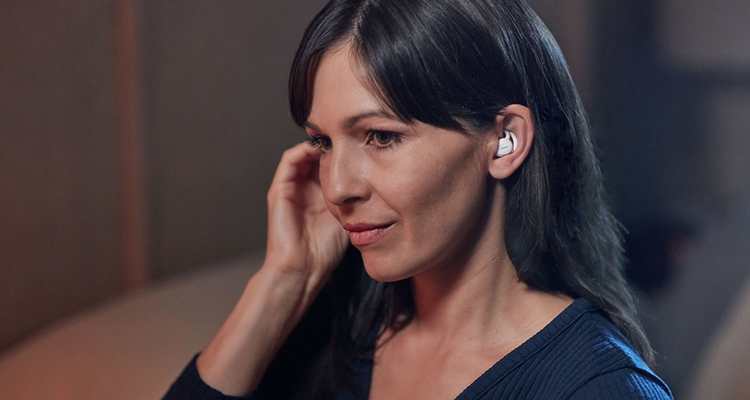 Best Sleep Earbuds
If you prefer a small, compact earbud that fits securely in place without any wires or bands that wrap around your head, these sleep earbuds are your best bet for a comfortable, quality night's sleep.
Bose Sleepbuds II
While these earbuds will cost you upwards of $250, they're also rated as one of the best overall sleep headphones for 2022. Voted as the most comfortable earbuds for all-night wear, these sleep aids accommodate a variety of sleep positions while staying securely in place. Not only do the Bose Sleepbuds II block out external noises (including snoring partners), but also offer 50 different sound and white noise options to choose from and are clinically proven to help you fall asleep faster.
The wireless earbuds themself come equipped with comfortable ear tips that both block noise and deliver soothing sounds. When fully charged, the Bose Sleepbuds II works for 10 hours. You can also charge the buds in the case up to three more times. Users can also connect to the Bose Sleep app where you'll get access to a comprehensive library of sounds, including some relaxation noises and noise-masking sounds engineered by Bose. Once synced with the app, you can also download your favorite sounds directly to the earbuds and create customized settings.
Amazfit Zenbuds
At a more reasonable price point of $130, you can get your hands (or should we say ears?) on the Amazfit Zenbuds. With Zen in the name, it's no surprise that these sleep headphones are designed to help relax and calm your mind and body before bed. The buds have a noise-blocking in-ear design for a light and comfortable fit. Amazfit Zenbuds are also equipped with a fin on the ear tips to fit snugly and securely on your ear ride, preventing slippage during the night.
But the benefits don't end with the sleek and modest design. The Amazfit Zenbuds also boasts some pretty impressive tech features including a personal alarm clock and sleep tracking capabilities so you can see how well and for how long you sleep each night. This tech also reports your sleep positions, quality, and heart rate. This is a great addition to keeping a sleep journal and can act as a beneficial tool for CBT-i and other monitoring techniques. With a battery life of up to 12 hours, these sleep headphones are sure to last all night long.
No sleep earbuds would be complete without some soothing sounds. In addition to blocking out external noise, these earbuds also deliver soothing sounds designed to trigger your body's natural sleep cycle.
QuietOn 3 Sleep Earbuds
The QuietOn 3 Sleep Earbuds are so small that you may not even notice you're wearing them. Available online for $269, these earbuds have the highest price tag. Ergonomically designed, the QuietOn 3 Sleep Earbuds nestle snugly in your ear to provide unmatched noise canceling capabilities. Each set comes with soft foam ear tips in 4 sizes to ensure a perfect fit for every user.
Unlike other earbuds and sleep headphones, there are no masking sleep sounds, no music, and no Bluetooth capabilities. Instead, the QuietOn3 Sleep buds focus solely on eliminating intrusive external noise. This prevents EMF (electromagnetic field radiation), making them safe and easy to use. What the QuietOn3 Sleep Earbuds lack in soothing soundscapes, they more than makeup for in battery life, delivering 28 hours on a single charge. The company also offers a 1-year warranty.
Best Sleep Headphones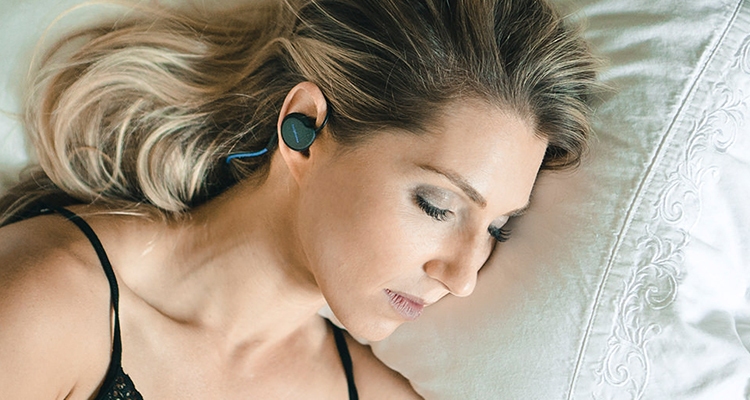 Do you prefer traditional headphones that don't penetrate your ear canal? Check out these top picks for the best sleep headphones for those who don't like the feel or design of earbuds.
Bedphones Sleep Headphones
This set of sleep headphones delivers the comfort of soft ear pads with the convenience of a short wire that connects behind your head. Depending on the features you choose and other add-ons, these headphones will run you between $89 and $149. The ear pads are thin and flexible with memory wire hooks that secure them in place behind your ear and also accommodate sleepers of all ages and sizes. The wire helps the ear pad lay flat against your head, keeping the sounds you want in and the ones you don't, out. Once in place, use the convenient cable slider to achieve a secure fit at the base of your neck.
Speaking of sounds, the headphone's CSR chip delivers superior sound quality so you can listen to your favorite music, sleep sounds, audiobooks, or podcasts. Just remember to choose something that's not overly stimulating and will keep you up at night. The purpose of using sleep headphones is to block out noise that may disturb you while delivering soothing, calming sounds and vibes. The Bedphones Sleep Headphones have a built-in remote on the wire where you can control the volume and switch from one sound or song to another. This is also where you'll charge the headphones, with a full battery lasting up to 13 hours.
Bose QuietComfort 20 Acoustic Noise Canceling Headphones
Another innovation from Bose, these sleep headphones are slightly different and cheaper than their earbud design. One reason is that they're not technically meant for sleep, but instead, designed to block out external noise. Priced between $109 and $165 (depending on the seller), these noise-canceling headphones are compatible with most Apple products. Each set of sleep headphones comes with small, medium, and large ear tips for a customizable fit. You'll also receive a carrying case and USB charging cable.
Thanks to Bose's high design standards, these noise-canceling headphones combine TriPort technology and Active EQ to deliver great sound quality, above what a normal set of headphones would deliver. They also block out all ambient noise when the "noise canceling" function is turned on. When switched off, the headphones enter "aware mode".
Kokoon Sleep Headphones
With the look of traditional Bose headphones but the features of a high-quality sleep headset, the Kokoon Sleep Headphones are larger than most other models on this list. The black sleek design makes them a fashionable choice, but not practical for every user. The same can be said for the price tag since these headphones hover right around $260. The Kokoon Sleep Headphones are one of the only over-the-ear sleep headphones on the market and rely heavily on their noise-canceling capabilities for improving sleep and eliminating distractions.
One way that the Kokoon Sleep Headphones achieve this is by using an Active Noise Cancellation audio seal and an adaptive audio feature that slowly fades your relaxing music out while introducing quieter, more soothing white noise for sleeping. Despite their larger size, many users report the Kokoon Sleep Headphones are actually quite comfortable but are definitely more for back sleepers than side sleepers. They come equipped with flexible silicone ear cups that are also detachable. Customers also receive a bonus sleep mask with their purchase.
The Kokoon Sleep Headphones don't miss on tech features either. Download the Kokoon Relaxation App for access to different soundscapes and techniques plus programs and other tips to help reduce stress and promote both deep sleep and relaxation. One thing that makes these sleep headphones different and slightly less effective is that they're advertised to help prepare you for sleep, but Kokoon recommends that you remove them before actually falling asleep.
Best Earmuffs and Headbands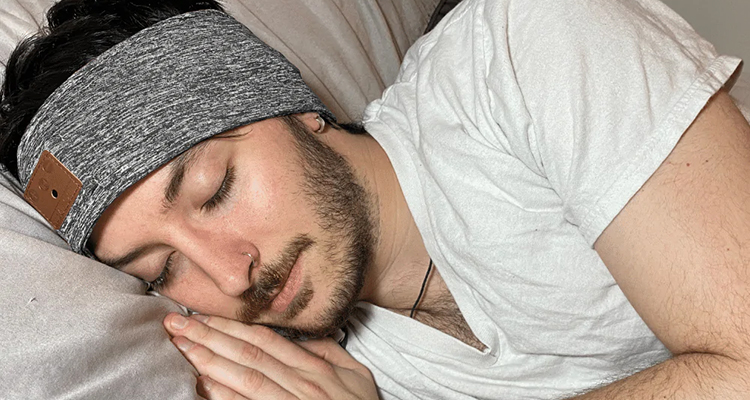 Perhaps the most comfortable, practical, and popular type of sleep headphones in 2022 are those designed like earmuffs or headbands. The flat, cloth makeup of most sleep headphones in this category makes them ideal for every sleep position.
Not only are these sleep headbands and earmuffs comfortable but many are still equipped with some of the best tech features and soundscapes. Here are our top picks.
Dormi Wireless Bluetooth Headband Headphones for Sleeping
At just $59, this is one of the best deals on the list of sleep headphones currently on the market. In fact, the Dormi Wireless Bluetooth Headband was voted the "comfiest sleep headband of 2022". The ultra-thin, HQ speakers deliver high-quality sound. Choose your favorite music, white noise, ASMR, or podcasts. You can even pull the thick band over your eyes and use it as a sleep mask. According to the website, 80% of users reported falling asleep faster and staying asleep longer after investing in the Dormi headphones.
The soft headband is hypoallergenic and machine-washable. It's also a mix of lightweight polyester and flexible spandex to help keep you cool and keep it securely in place. The 10-hour battery lasts all night on just a 2-hour charge. One unique feature of this headband is that it's equipped with a built-in microphone. If you're not using the headband for sleep, you can use this convenient mic to make and receive phone calls. You can easily connect to any Bluetooth device up to 451 feet away.
Fulext Sleep Headphones
Designed for all the tossers and turners out there, the Fulext Sleep Headphones are another flexible headband designed to stay put all night long. Made of high-quality elastic and breathable mesh, you don't have to worry about sweating while wearing this thick-banded set of headphones. Side-sleepers will barely feel the ultra-thin speakers on either side. The simple control panel lets you easily control the volume and sound choice while still remaining comfortable in bed. Although the material is stretchy, it's not adjustable so it may fit more snuggly on some users than others. This means if you have a larger or smaller head, you may find it tricky to achieve a secure fit.
With 10 hours of playing time on just a 2-hour charge, you can use these headphones all night without an issue. You also have the option to use the Fulext Sleep Headphones with or without a wire, though for sleeping purposes, the wireless option is best. At a reasonable price of just $19.99, why not give these flexible sleep headphones a try?
AcousticSheep SleepPhones Wireless Sleep Headphones
At a slightly higher price point of $99, you can own the AcousticSheep SleepPhones designed for both sleep and travel. Created by a family physician and her husband who couldn't find a comfortable pair of headphones to wear at night, they designed a headband ideal for side sleepers. Similar to the Fulext headphones mentioned above, this sleep headband offers ultra-thin, flat speakers that are comfortable to wear in any sleep position. The headphone's Bluetooth capability lets you control the volume of your music, sleep sounds, meditation, or podcast plus controls for play, pause, and skip.
Built to last, the battery offers 12 hours of playing time when fully charged and connects to any Bluetooth device within 30 feet. The sound quality is clear and crisp regardless of the battery's charge, ensuring you only hear what you want. Available in small, medium, and large, most users can find a perfect fit. The soft, fleece fabric is lightweight and moisture-wicking to prevent sweating or discomfort. Simply remove the internal electrical components and toss your headband into the wash for easy cleaning.
Hoomband Headband
Unlike some other headphones on this list which just double as sleep headphones, the Hoomband Headband was made specifically for sleep. Like other headbands, this product is made using ultra-thin, flat speakers that are tucked securely under foam padding for extra comfort. The headband itself is made of 3D mesh that's just as thin, ultra-soft, and helps regulate your body temperature while sleeping.
The Hoomband Headband doesn't lack on tech features either and is equipped with Bluetooth capability plus a free app. Once set up, the app offers over 100 hours of audio content including white noise, guided meditation, documentaries, ambient sounds, and soothing music. You can also connect with your favorite apps including Headspace, Spotify, and YouTube. Reasonably priced at $79, you can order a Hoomband Headband in medium or large.
Other Sleep Headphone Options
Although not technically headphones, these eye masks seem to make their way onto every list of the best sleep headphones for 2022. And for that reason, they deserve a mention here as well. Designed with extra-thick straps that also cover the ears, these eye masks still deliver the quality sound you need to drift to sleep and stay asleep.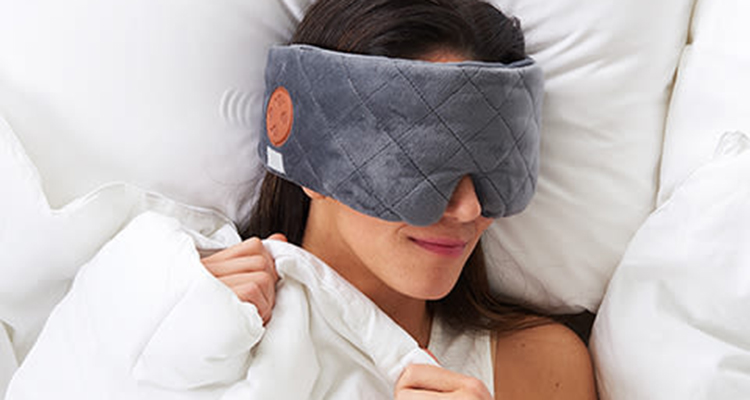 Bluetooth Sound Therapy Eye Mask
Moderately priced at $79.99, this Bluetooth Sound Therapy Eye Mask encapsulates you in your own private bubble of soft sounds and relaxation. The mask and band are made of super soft micro mink polyester fabric, completely blocking out daylight and other light disturbances. Equipped with dual Bluetooth speakers built into the headband, you can choose from pre-selected sounds like rain, a stream, or ocean waves, or stream music directly from your smartphone or tablet.
One downside to this eye mask is the battery life. While it does last for 8 hours, this is at least 2 hours shorter than most other sleep headphones in the same category. The convenient adjustable strap fits most people, creating a customizable experience. The built-in control panel lets you control the volume and shuffle through different options.
Sleep Headphones Bluetooth 5.0 Wireless 3D Eye Mask
For just over $20, this Bluetooth eye mask is available in a variety of colors and is suitable for users of all ages. The 3D ergonomic technology is designed to block out all outside light, creating a completely dark oasis. Outside noise is replaced with soothing music, eliminating the need for both a sleep mask and sleep headphones.
The Bluetooth stereo offers a strong, stable connection over long distances. The soft, breathable material accommodates all sleeping positions, while the memory sponge face mask helps ease facial tension and stress. The battery charges in 2 hours and provides 10 hours of playing time so you can sleep peacefully through the night. You can also hand wash the mask in warm soapy water and air dry to keep it fresh and clean before every use.
Reduce Noise and Enhance Your Sleep Experience
While there's no sure-fire way to achieve a quality night's sleep, every small lifestyle change you make can add up to a major positive impact. And investing in a pair of sleep headphones can help reduce stress and external noise while also helping you fall asleep faster and stay asleep longer. Whether you opt for a comfortable and flexible headband or convenient earbuds, there are plenty of styles and designs to choose from.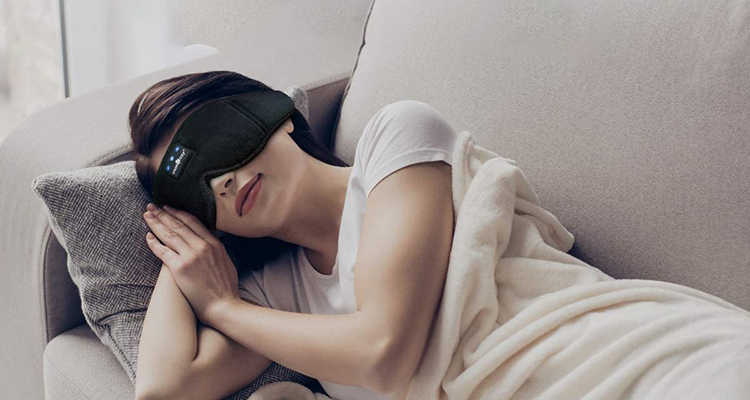 Paired with the CBT-i methods used in Somnus Therapy's online sleep therapy program, you can finally create a healthy nighttime routine that reduces distractions and promotes deep, blissful sleep.