Interview with a sleep expert: Dr Joshua Lennon, MD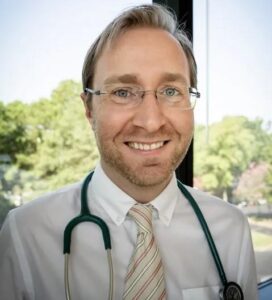 Joshua Lennon received his undergraduate and medical degrees at the University of Miami. He is double board-certified in Sleep Medicine and Neurology following residency and fellowship training at the University of Tennessee Health Science Center. He is the medical director for an American Academy of Sleep Medicine accredited sleep center and DME and Assistant Professor at UTHSC. When not running around trying to keep up with his wife and two daughters, he enjoys spending time reading, keeping up with the Red Sox, and listening to prog rock.
For more information about Dr Joshua Lennon visit https://www.wellrestedmd.com/ or check out the Well Rested podcast available on most players, including Apple Podcasts, Spotify, Pandora, Google Podcasts, TuneIn, Amazon/Audible, iHeartRadio, Stitcher, and more.
What was your inspiration for studying sleep medicine?
Uninterestingly, there was no lifelong romance with sleep or critical figure that drew me in. I've been interested in cognitive psychology and philosophies of life since I was in college, but didn't have an effective way of linking that with my pursuit of medicine. We all struggle with sleep at one time or another, and I have several family members with sleep difficulties, but it wasn't until I started seeing more and more patients in my neurology training whose lives had been upended thanks in part to their sleep disorders that I was drawn in to sleep as a career. I spent all my elective time in residency training hanging out with local sleep specialists, learning as much as I could about the field and the day-to-day practice of sleep medicine – and that's what got me hooked. Then seeing how our daily habits and decision-making affect our sleep, and how our sleep affects our day-to-day experiences and decisions – the role of sleep in psychological wellbeing, and the role of philosophical wellbeing in our sleep – that's what sealed the deal for me.
Is insomnia something to worry about?
Yes and no. Insomnia can be a symptom of serious medical problems and has been associated with a higher risk of all sorts of negative outcomes, from increased missed days of work to increased use of healthcare resources, and higher risk for several medical problems. So if anyone regularly experiences insomnia, which the American Academy of Sleep Medicine defines as difficulty 3 or more times per week for at least 3 months, they should seek help. However, while an individual is experiencing insomnia – in that direct experience of not sleeping as desired – worry can actually exacerbate the insomnia and should be avoided, which is easier said than done. Which only reinforces the idea of seeking help – help for insomnia, and help for reducing the worry.
What is your experience with CBT for insomnia and why is CBT for insomnia recommended as the first line of treatment?
There are all sorts of ways people will deal with their sleep troubles. Some can seem helpful in the short term, but possibly harmful in the long run. Some pharmaceuticals may reach a statistical endpoint for some outcome that has no effect on someone's wellbeing and are clinically meaningless. These medications for insomnia, like every other substance, come with the potential for risks as well, some of which are quite serious. Practising science-based medicine means not following fashionable trends, or the newest innovation, or just doing what's always been done. It means we recommend treatments that have a plausible mechanism and have demonstrated safety and efficacy in meaningful ways.
Cognitive behavioral therapy for insomnia fits that criteria: CBTi has demonstrated efficacy in every population studied to date – different ages, medical or mental health comorbidities; it is effective when delivered one-on-one, to a group setting, just over the telephone, or digitally. The benefits of CBTi are robust. So after decades of accumulated research, the AASM and American College of Physicians have each independently published large literature reviews on CBTi and recommended it as first-line treatment for insomnia.
Cognitive behavioral therapy is time-intensive, and most physicians – even in the sleep world – have no training in CBT techniques, so it is almost never done in medical practices. There is a void of qualified psychologists to do CBTi in my region, so we started doing it ourselves. We adopted a standardized curriculum based on the most effective protocols and implement it whenever we can. Telemedicine has made the delivery of CBTi much easier – since it requires weekly sessions, it can be quite difficult for working adults to take off all that time for travel and checkin and the visit itself; telemedicine allows CBTi to be delivered quickly and easily during someones scheduled break at work.
What's your advice for someone suffering from insomnia?
Don't suffer any longer – there is help out there for everybody. There are now great resources to get help: Michael Perlis and his team at Penn have put together a directory of CBTi providers; the Society of Behavioral Sleep Medicine also has members all over the world who you can find, and you can find AASM-accredited sleep centres. There are now prescription-only digital CBTi available if you don't live close to a qualified provider and over the last several years a number of highly affordable self-guided CBTi options, such as Somnus Therapy, are now available as well.
If you had to give one sleep recommendation, what would it be?
Screen curfew. Be a good steward of your light exposure – light (especially from screens) as you approach sleep time makes sleep needlessly difficult. The science of circadian biology has been just exploding in recent years and it is hard to downplay the fundamental role that light exposure plays in our sleep and circadian wellness.