Everything You Need to Know About Treating Chronic Insomnia with Somly
Did you know that 1 in 3 adults aren't sleeping enough? Everything from stress and anxiety to poor sleep environments and unhealthy routines can impact sleep quality and leave you feeling fatigued, confused, and irritable. The two most common forms of insomnia are chronic and acute. Chronic insomnia occurs at least three nights per week for three months or longer while acute insomnia is more short-term. While there's no magic pill that instantly cures your insomnia, there are plenty of treatment and therapy options available for reducing and easing symptoms.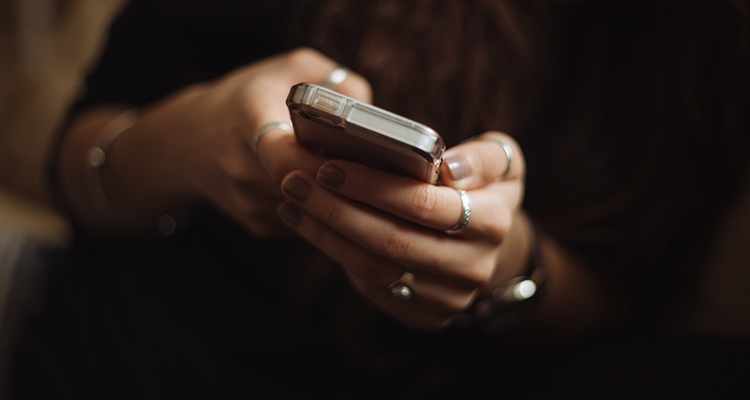 One such approach is known as CBT-I or cognitive-behavioral therapy for insomnia. Countless online sleep therapy programs, including Somly, use this method to help users change their pre-existing thoughts and beliefs about sleep. Keep reading to learn more about what this program has to offer including costs, resources, and results.
Somly is a 6-week online therapy program for treating insomnia. The methods used in this program are based on extensive research and clinical practice led by Dr. Jack Edinger. Dr. Edinger is also the Chief Program Consultant for Somly and has dedicated his extensive career to learning more about the causes of insomnia. Through research and clinical testing, Dr. Edinger has developed several methodologies for overcoming some of the most common causes of sleep deprivation with an emphasis on CBT-I.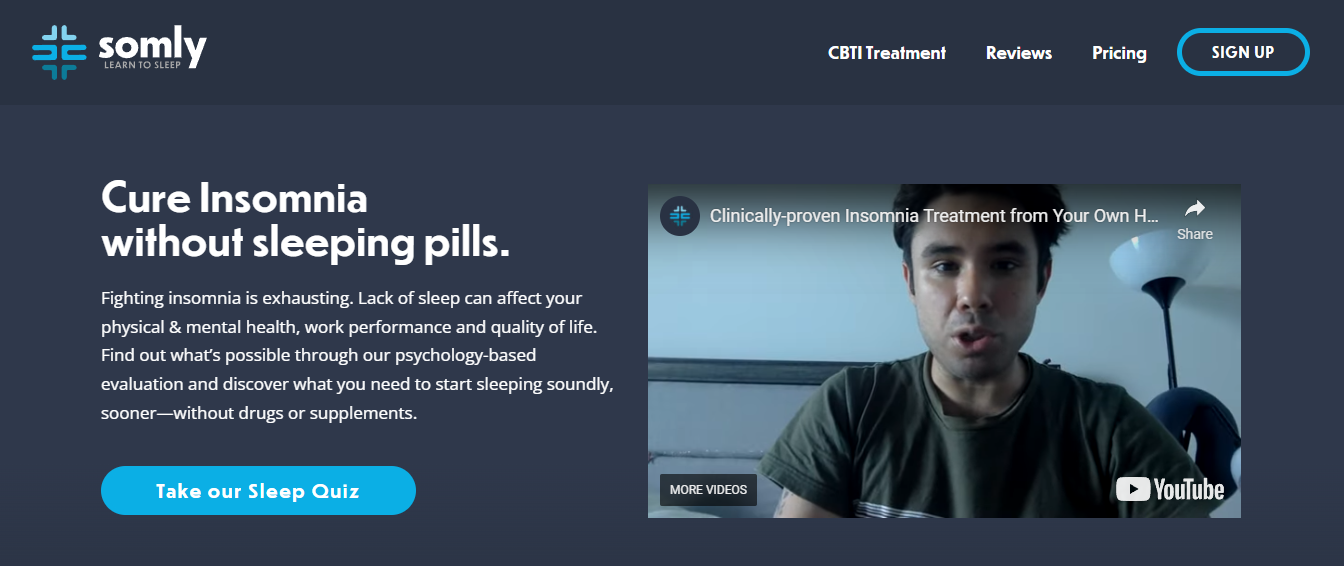 Dr. Robert Oexman, also known as the Sleep Professor, is also the CEO and co-founder of Somly. Dr. Oexman has lectured and interviewed on the topic of sleep in more than 40 countries and appeared on both Fox TV and the Today Show. Before developing Somly, Dr. Oexman managed research studies in some of the most prestigious universities around the world including Harvard, Stanford, and Toronto University. He's also worked alongside sleep and engineering technicians to study the impact of the environment on sleep. In addition, Dr. Oexman has patented revolutionary testing equipment for monitoring sleep. 
Now, Dr. Oexman leads a team of sleep professionals and CBT-I therapists to bring you a 100% satisfaction guaranteed sleep program.
What is the Cost and Accessibility of Somly?
We already mentioned the 100% satisfaction guarantee, but what exactly does that mean? You can purchase the Somly 6-week online treatment program for an upfront cost of $549. This unlocks all the resources, articles, and support you need. If you're not satisfied with the results, Somly will offer a money-back guarantee.

This price includes the following:
Initial consultation with a certified sleep specialist

Doctor curated 6-week CBT-I program

Personalized program

Proven results

Access to educational videos and articles 
Sleep deprivation treatment such as this may be eligible for reimbursement with an FSA (flexible spending account), HSA (health savings account), or HRA (health reimbursement arrangement). It's important to note that Somly doesn't currently accept health insurance. 
Participants access the program and resources directly through the website. There is currently no app for Somly, which means you'll need a laptop, computer, tablet, or another digital device to experience the full benefits of the program.
Similar to other online sleep therapy programs, Somly offers a completely online course consisting of six unique lessons. Each lesson offers information on sleep habits, behaviors, environment, and techniques for improving these factors and, ultimately, your sleep patterns.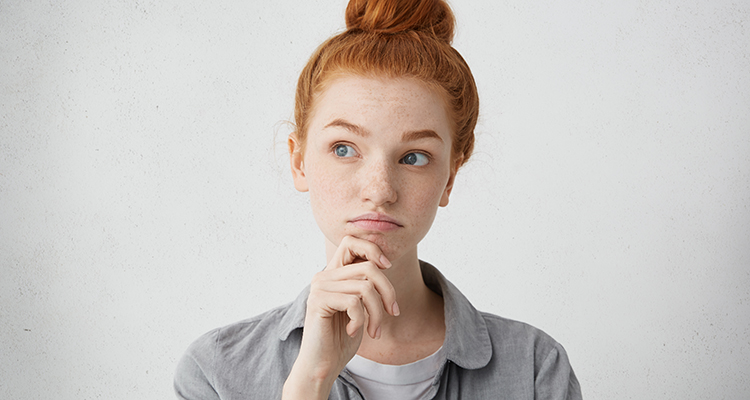 The process starts with a virtual meeting with one of Somly's board-credentialed sleep coaches. After taking a short quiz and answering some questions, your coach will review your behaviors and work one-on-one with you throughout the course of the program. As you progress, your coach will suggest different sleep techniques that fit your ever-changing needs. Somly reports state that these techniques have a 94% long-term success rate. The initial sleep assessment quiz consists of just eight questions to give your sleep coach a snippet of your current situation.
Somly is a high-interactive program, which is one reason it guarantees results. Following the brief online assessment, you'll schedule your first virtual call with your coach. Your coach remains the same throughout the program, ensuring consistency and efficacy. Next, you'll complete a 7-day sleep diary detailing your sleep habits, hurdles, and routines. After evaluating your diary, you'll work closely with your sleep coach over the next six weeks to apply CBT-I techniques that are proven to improve sleep. According to Somly, CBT-I is 70-80% more effective at treating insomnia than the use of sleeping pills. In fact, many insomnia sufferers were able to stop using sleeping pills after completing the six-week program.
Evidence that Somly Works
Most of the evidence behind Somly's success rates is based on the benefits and efficacy of CBT-I, not necessarily the program itself. CBT-I is currently the only scientifically-proven non-drug insomnia treatment. Somly uses CBT-I to treat some of the following sleep issues: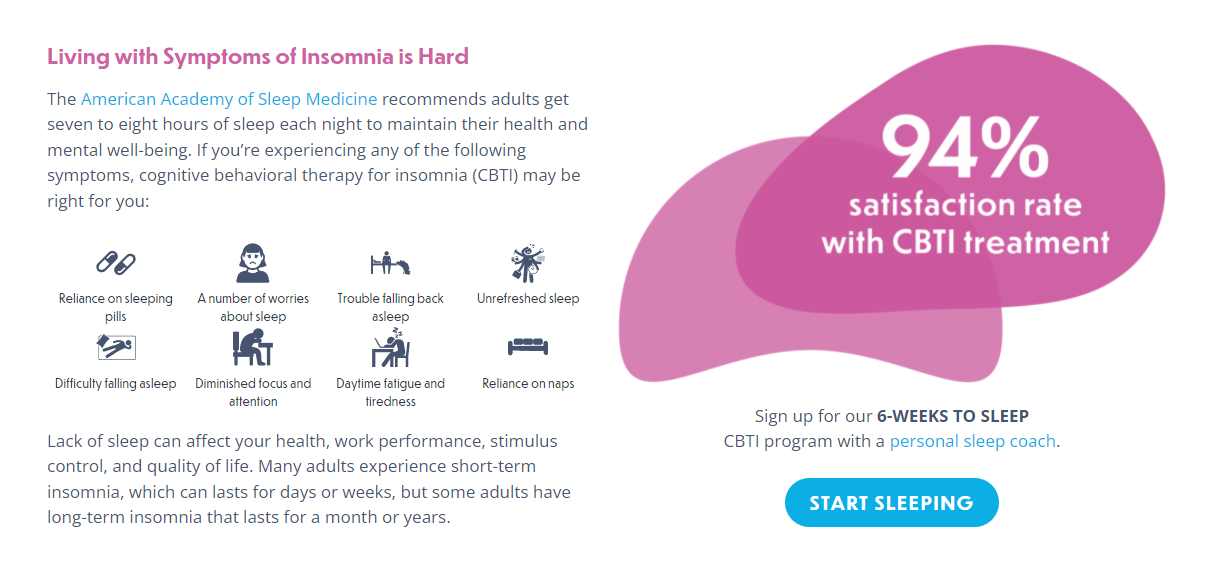 Worrying and anxious thoughts about sleep
Dependency on sleeping pills to achieve sleep
Difficulty falling asleep
Unrefreshed sleep
Trouble falling back to sleep after waking up
Daytime fatigue
Inability to focus
Reliance on naps during the day
Using the sleep quiz and expert advice for your sleep coach, you can also identify the underlying cause of your insomnia. Some common causes include:
Recent major life changes (divorce, change in career, moving, loved one's death, new baby)
Financial stress
Poor sleep routine
Certain medications
Medical conditions
Mental health issues
Changes in activity levels or lifestyle
Unhealthy substances in excess (drugs, alcohol, caffeine)
Using CBT-I, Somly helps you change your thoughts and cues around sleep. Your sleep coach will first help you identify the internal and external factors that are negatively impacting your sleep patterns. Next, they'll help your brain discover its drive and need for sleep. Other benefits of CBT-I include improved mood, increased productivity, an overall better quality of life, and long-term results.
Who Can Benefit from Somly?
Somly may not work for everyone. Before starting any sleep therapy program, you should discuss it with a healthcare professional. While most people suffering from long-term or chronic insomnia are good candidates for Somly, certain conditions and diagnoses might make you ineligible, including your age. Somly is recommended for insomnia patients age 25 and older.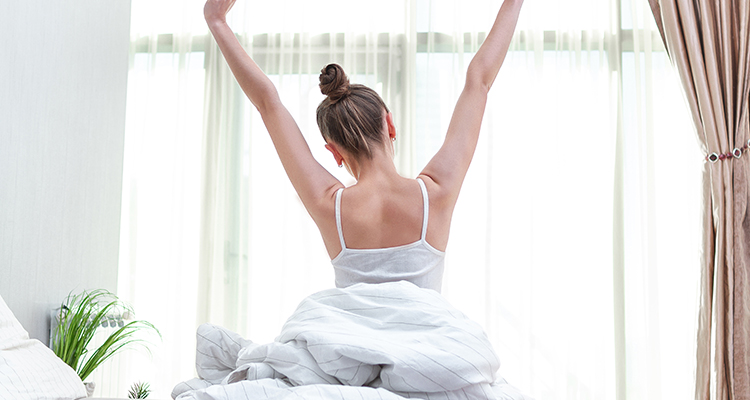 After reviewing the results of your sleep quiz, your sleep coach will determine if Somly is right for you.
Pros and Cons of Somly for Sleep
As you weigh your options for online sleep therapy programs, consider these pros and cons of the Somly 6-week program.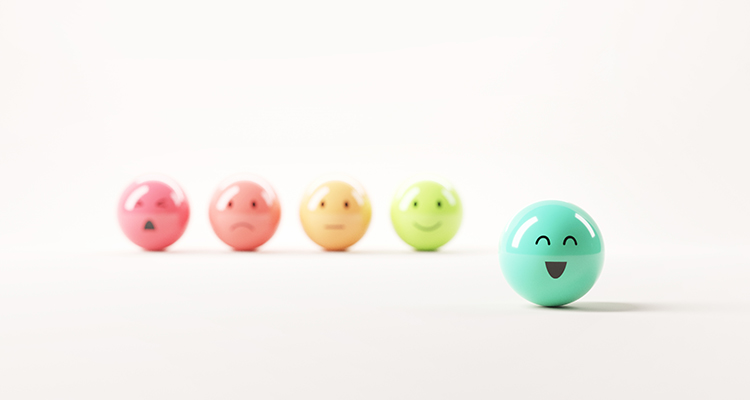 Pros
Founded and run by doctors and sleep specialists with years of experience treating insomnia
Satisfaction, money-back guarantee
One-on-one guidance from a certified sleep coach 
Personalized approach to insomnia treatment
Educational articles are available at no cost on the website's blog
Cons
The program is only six weeks long
The cost is relatively high compared to other online treatment programs ($549)
The only treatment method used is CBT-I
Additional resources are limited
Somly vs. Somnus Therapy: Key Differences
Now that you know a little bit more about Somly for sleep, let's take a closer look at how this online sleep therapy program stacks up against Somnus Therapy.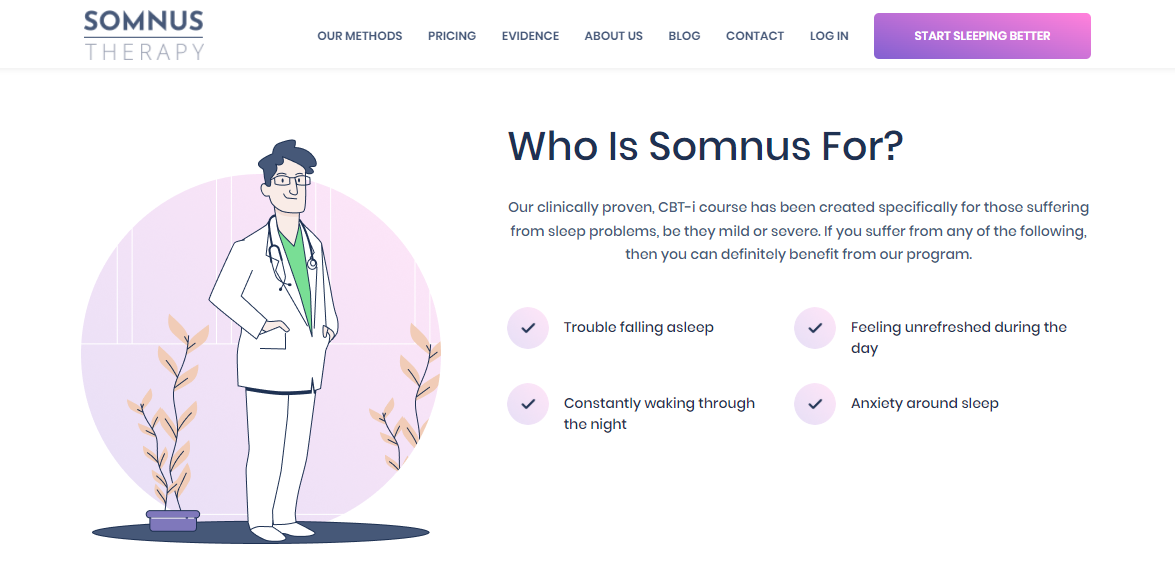 The Cost
The cost of a sleep therapy program is usually the first thing people notice – and rightfully so. You want to get what you pay for. Somly has one, flat fee of $549 for access to the entire program. There are no discounts available, but you may be able to check with your insurance company to see if treatment is covered. For some people, this price may seem fair since you're getting multiple one-on-one sessions with a sleep expert over 6 weeks. The program is also personalized to your needs and specific sleep issues. Access to the website's blog is free. Here you'll find numerous articles with tips and information on sleep and insomnia.
On the contrary, Somnus Therapy only costs $49 in the US and £49 in the UK. That's a fraction of the cost of Somly, plus you get other resources and life-long access to the website, articles, videos, and lessons. Somnus Therapy provides over 50 CBT sessions for improving sleep, over 100 guided meditation lessons, and sleep sounds. In addition, you get a personalized and dedicated sleep coach to help answer your questions and guide you through the treatment plan. Similar to Somly, Somnus Therapy also offers a money-back guarantee. If you don't notice a significant improvement in your sleep habits and overall well-being, you can request a complete refund.
Program Features
Somly offers a 6-week program that participants complete at their own pace with the help and guidance of their sleep coach. Users can access sleep specialists for support, to discuss changes and progress, and to create a personalized plan. Somnus Therapy offers the same hands-on approach to healing. As you work your way through the Somnus program and its resources, you'll have constant support and guidance from your personalized sleep question. Your coach is available at all times to answer questions, address concerns, and give you much-needed inspiration and feedback.
Somnus Therapy, however, offers some features that Somly doesn't. For example, outside of the six core milestones, Somnus provides over 50 CBT sessions to meet all of your needs. Users can also access and use over 100 guided meditation videos and soothing sleep sounds. These resources are available for life! Once you pay the initial fee, you never lose access to these resources.
Therapy Techniques
Somly is a CBT-I-based program that focuses strictly on changing your thoughts and behaviors associated with sleep. Somly doesn't expand too far beyond these proven methods. Somnus Therapy utilizes CBT-I as well but it doesn't stop there. Other techniques include ACT (acceptance and commitment therapy), mindfulness, and meditation to help you eliminate negative or anxious thoughts and achieve complete relaxation.
Finding the Best Online Sleep Program for Your Unique Needs
No two insomnia cases are alike. Countless factors impact your ability to achieve quality sleep from stress and anxiety to major life events and even your environment. Different sleep programs offer different benefits and suggestions for improving your sleep quality and well-being. Somly is a sleep therapy program developed and operated by sleep experts and experienced doctors in the field. But some people may shy away from the price.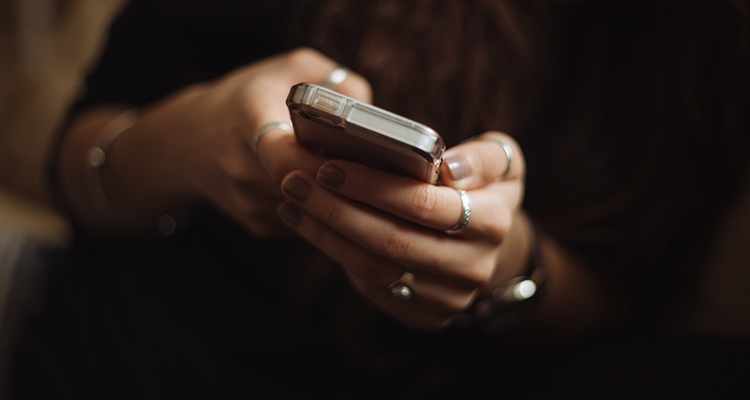 Somnus Therapy uses CBT-I techniques along with several other therapy options for a comprehensive approach to insomnia treatment. Users get access to all of our features and resources for a single price, which is backed by our money-back guarantee. 
Are you ready to start your journey toward better quality sleep? Click here to get started today!