The 411 on Sleepio for Insomnia
Insomnia is used to describe a wide range of sleep disturbances but is most widely recognized as the inability to fall and stay asleep. Nearly 50% of adults report difficulty sleeping at one time or another. Chronic insomnia occurs at least 3 times a week for 3 months, whereas acute insomnia may only affect a person once or twice a week for a short period of time.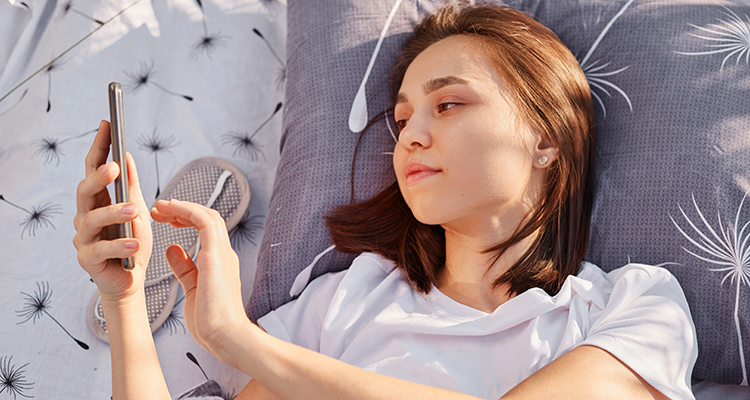 Long-term sleep deprivation can cause a long list of health issues and complications from heart disease, diabetes, and obesity, to an increased risk of depression. Insomnia isn't something to be taken lightly, and that's why there are countless treatment and therapy programs out there designed to ease insomnia symptoms and help users achieve deep, quality sleep.
One such program is Sleepio – the world's first placebo-controlled clinical trial for digital sleep intervention. Keep reading to learn more about this program, what it has to offer, and what you can expect upon completion.
Sleepio is a six-week digital sleep-improvement program that uses cognitive-behavioral therapy (CBT) to help treat insomnia – also referred to as CBT-i. Sleepio also utilizes sleep compression and restriction therapy to help users change their thoughts and behaviors related to sleep. The program was created by ex-insomnia sufferer Peter Hames and sleep scientist Colin Espie in 2012.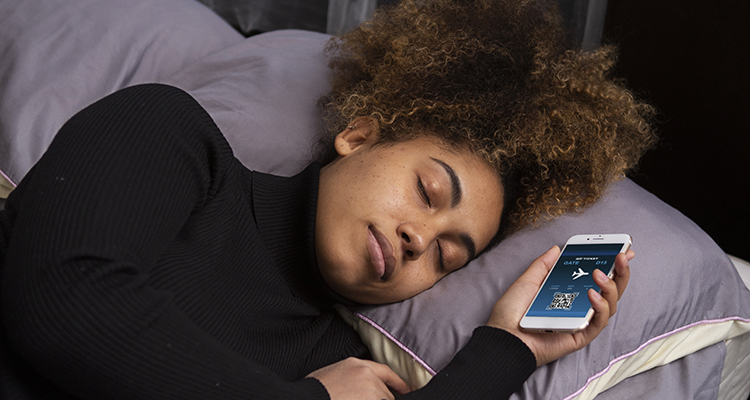 The program is designed to help you fall asleep faster and stay asleep longer so that you feel better and more alert during the day. It achieves this by focusing on three main factors – your lifestyle, your thoughts, and your schedule. Sleepio starts by helping you identify and address environmental factors in your life that impact sleep. Next, you'll learn to master your thoughts using CBT-i techniques designed for your unique problems and progress. Sleepio will then help you design a personalized 24-hour schedule to keep you focused and on track.
The Sleepio app is currently available in both the US and the UK. While the app itself is free to download, users need to make an in-app purchase to unlock the program and get access to all its features. When you first sign-up (and before you pay for the complete program), you'll answer a short questionnaire to determine your sleep score. This takes about 5 to 10 minutes after which you'll be prompted to complete your sign-up and enter a payment method.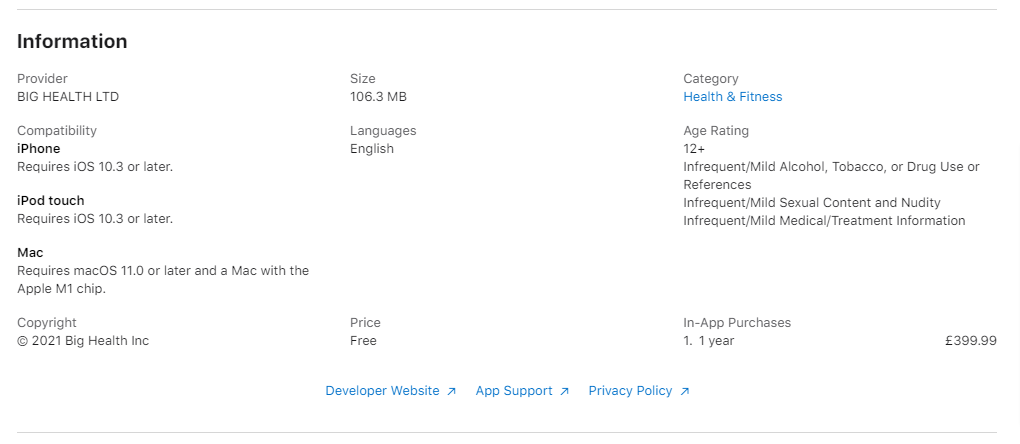 As of this writing, the Sleepio 6-week program is available in the US for $449.99 and in the UK for £399.99. You can download the app from the app store on your iPhone or iPad. Android users need to use a home computer or smartphone to access the program via the Sleepio website. All users need a reliable internet connection to watch the videos and access the materials without interruption. Sleepio also offers free trials to participants willing to take part in a research study and some insurance companies will cover the cost of certain sleep therapy programs such as this one. The free research trials are available by invitation only and require you to apply. Acceptance isn't guaranteed and may take upwards of 8 weeks.
While the upfront cost of the Sleepio program gives you access to the lessons, articles, sleep diary, and community for an entire year, you'll need to renew your subscription once the 12 months expire.
The core Sleepio program includes 6 weekly sessions that you'll receive in order to stop you from jumping ahead. Each session is hosted by a virtual, cartoon expert known as 'The Prof' and lasts about 20 minutes.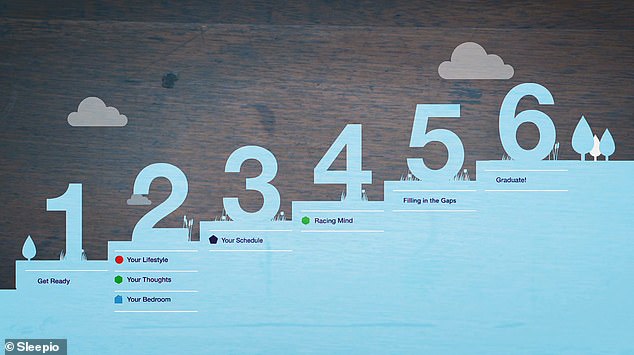 When you first sign-up for Sleepio, you'll be asked to set some personal goals. While achieving better sleep is the ultimate objective, everyone's journey to blissful sleep looks different. Sleepio helps identify the specific things you want to improve on so it can create an individualized program that meets your needs.
Part of this process is answering an in-depth questionnaire about your sleep hygiene, habits, and issues. Questions also include information about your medical history and other personal data. Your answers are used to create a comprehensive user profile. Based on these results and your personal goals, Sleepio will build your program.
Over the course of the next several weeks, you'll receive reminders to log in and complete the given lesson. Each week, 'The Prof' will share a new CBT-I technique for improving sleep. Each lesson is designed to build on the previous one.
Week 1: Learn about what causes insomnia and poor sleep and set your goals for the program.
Week 2: Identify and address lifestyle and environmental barriers to sleep. Redesign and improve your bedroom to promote sleep.
Week 3: Implement sleep-restriction techniques to boost the connection between your bedroom and sleep.
Week 4: Learn more CBT techniques for clearing your mind and preparing for sleep.
Week 5: Add even more sleep techniques to your toolkit tailored to your specific needs.
Week 6: Review important topics and make a plan for the future.
In between sessions, users are encouraged to keep a sleep diary to monitor their progress and utilize the program's other tools and resources. These include over 100 expert articles, ten online tools, and access to a community of other participants and recent graduates.
Sleepio promotes anonymity and positivity in these public forums. You'll also have access to a live group session once a week, which is hosted by a sleep expert from the team. This is a nice change of pace from the cartoon expert you encounter throughout the rest of the program. During this 90-minute live group session, the sleep expert will answer the community's most popular and frequently asked questions.
Registered users will have access to all of these resources for the duration of their subscription (one year), however, you only receive guided lessons for the first 6 weeks.
Who is Sleepio Designed For?
Sleepio is designed for anyone over the age of 18 looking to improve their sleep health. This is true whether you've been facing insomnia for years or have just recently developed the condition. Even those who are taking sleep aids and other medications to improve sleep can potentially benefit from the CBT techniques used in the Sleepio program. The program is only effective if participants are committed to changing their thoughts, lifestyle, behaviors, and schedule.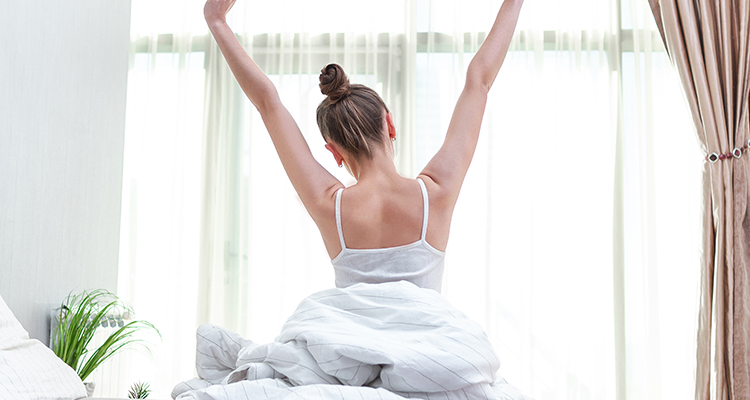 Anyone currently diagnosed with a specific sleep disorder, mental illness, or other serious medical condition should consult with a healthcare professional before starting this program.
Evidence of Sleepio Success
According to its creators, the Sleepio program has been tested to the highest standards of clinical evidence. This research was done in a placebo group called the Randomized Controlled Trial (RCT). Results indicate that users fall asleep 50% faster and spend 60% less time awake during the night after completing the program. Other reported benefits include increased daytime energy, improved mood, better concentration, and a more consistent sleep pattern.

Other evidence suggests that insomnia sufferers achieved six hours more sleep per week thanks to the CBT-i techniques provided by Sleepio. Over 75% of patients achieved clinical improvement in their insomnia symptoms with another 56% of users reporting they overcame their insomnia completely.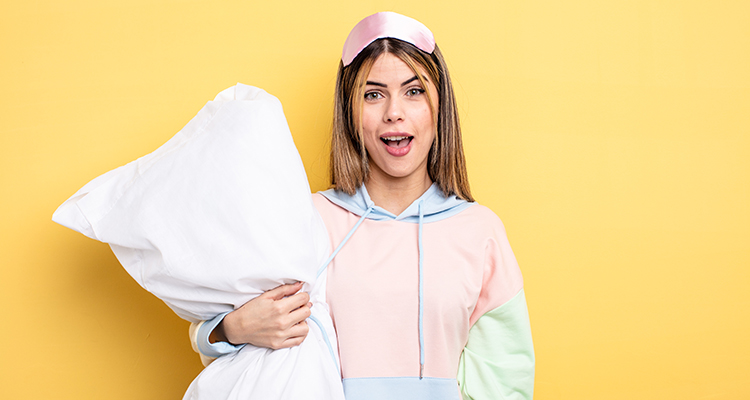 Pros
Provides a realistic approach to change with small, progressive steps
Offers a personalized approach to treatment based on your individual needs and goals
Offers unique advice and concepts for treating insomnia
The app and the website design are fun and interactive
Information is easy to understand and follow
Scientifically-backed and tested content 
Reported sleep improvement within a few weeks
Cons 
Lessons are limited to only six and users can't skip ahead
The cost for an annual subscription is much higher than other sleep programs and doesn't offer as many resources or tools
No direct communication with sleep experts outside of 'The Prof' and the weekly live group session
The program focuses strictly on CBT-i and doesn't utilize other techniques 
'The Prof' sometimes uses a condescending, childish tone
Too much focus on sleep restriction may cause increased anxiety in some users
Limited options or ways to interact in between and after completing the six weekly lessons
Sleepio vs. Somnus Therapy
While Sleepio is a popular and seemingly effective sleep program, it's certainly not the only one. It also lacks certain features and benefits that other online therapy programs like Somnus Therapy offer users.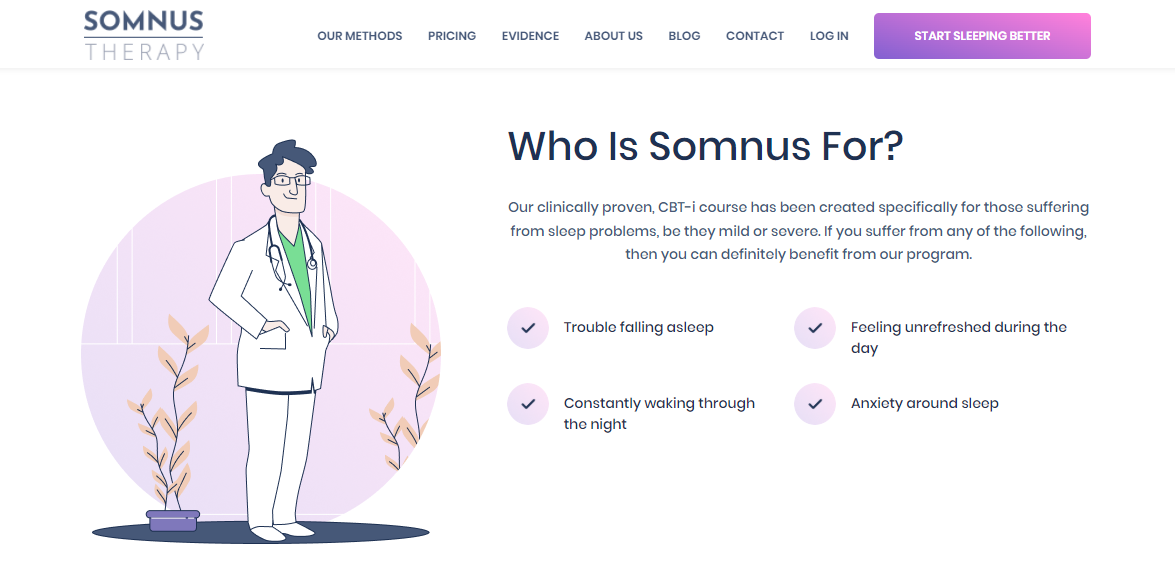 Below you'll find a comparison of the two programs so you can make an informed decision about which one best fits your needs.
Cost
Let's start with the cost. Sleepio costs £399.99 in the UK and $449.99 in the US for a one-year subscription. This includes the 6 core lessons, continued access to the community support group, your sleep diary, and the weekly live group sessions. 
Somnus Therapy is much more cost-effective at just £49 in the UK and $49 in the US. Not only that, but users have access to all of the information and resources forever! There's no limit to how many times you can revisit the website, rewatch tutorials or videos, and ask questions. Somnus is a lifelong investment in better sleep. Somnus Therapy also offers a money-back guarantee, which is something most other sleep programs, including Sleepio, do not. 
If you don't see a change or improvement in your sleep after completing the Somnus Therapy program, you can ask for a full refund. Users can complete the program at their own pace (no matter how long it takes you) and test out all the techniques and suggestions. If at this point, you still don't see any improvements, you'll receive every penny back. 
The Full Program
We already mentioned that Sleepio is a 6-week program that provides some additional resources upon completion. Every week for 6 weeks, you'll receive a single 20-minute video that offers specific techniques, suggestions, and tips for improving your sleep habits, behaviors, and environment. Sleepio focuses primarily on CTB-i only, although some lessons surround sleep restriction therapy. 
Somnus Therapy's full program includes 50 core CBT sessions. That's nearly 10 times more than Sleepio. This program also provides over 100 guided meditation sessions created by certified sleep specialists designed to ease anxious thoughts, promote relaxation, and induce sleep. Somnus Therapy uses CBT-i similar to Sleepio but does so in combination with other proven methods like mindfulness, meditation, and Acceptance-Commitment Therapy (ACT). Users also have access to soothing sleep sounds to help promote sleep.
Support
Sleepio lessons are taught by 'The Prof' – an animated "sleep specialist". All lessons are based on your personal goals and answers to the in-depth questionnaire. Your main source of support comes from a community of other insomnia sufferers and recent graduates of the program. Here you can swap stories, advice, and tips. Every week, a sleep specialist from the team will host a 90-minute interactive live group session to answer popular questions. 
Somnus Therapy also facilitates communication between members and also offers free support and advice throughout the duration of the program. Users are assigned a personal sleep coach who is available to offer advice and answer questions at any time. This provides you with a one-on-one, personalized approach.
Sleepio is one of many online treatment programs designed to ease insomnia symptoms and help users achieve a better quality of life. While the app and website are easy to use, the cost for what you get is significantly higher than most other programs.
If you're looking for basic, step-by-step information that's delivered in an easy-to-digest way, this may be the program for you. It's also easy to complete in the 6-week timeframe, offering quick results for some users. The biggest downside to Sleepio is that aside from the personalized 6-week lessons, the program doesn't offer too much more for the price. You also lose access to valuable information after the first 12 months unless you subscribe for another year – and another £399.99 or $449.99 depending on your location. 
At the end of the day, you need to choose an online insomnia therapy program that fits your needs and gives you all the support, information, and resources you need. Somnus Therapy is another viable option that offers substantially more resources for life, at nearly a quarter of the price. 
Click here to learn more about our program, techniques, and money-back guarantee!